People swear by apple cider vinegar (ACV) and yes, there's something to it!
Vinegar has been used for centuries for many purposes including cleaning, killing weeds and pickling. Apple cider vinegar is sold as both a bottled vinegar, and a dietary supplement in the United States. It is a popular folk remedy. I don't think that ACV cures everything, but I do find some studies intriguing. I use ACV frequently in homemade salad dressings.
Apple cider vinegar is mainly juice, apple juice! But when makers add yeast, it turns the fructose (fruit sugars) into alcohol during the fermentation process. That's why vinegar has a zing! It's fermented using bacteria and turned into alcohol. The bacteria do the fermenting, and turn the alcohol into acetic acid, and in ACV, there's about 5-6% acetic acid content. It's that compound which gives vinegar the sour taste that you are so familiar with.
It's primary active ingredient is "acetic acid" and many holistic practitioners believe that a little acid can relieve symptoms of reflux disease and heartburn. Sounds strange, I know, but the bitter truth is that  symptoms of heartburn and reflux can sometimes be related to insufficient levels of stomach acid (termed hypochlorhydria), not high levels like many of you who take acid blockers assume.  If you'd like to read my other article regarding that, CLICK HERE to read, Heartburn? My Gut Feeling is You Might Need More Acid.
So the acetic acid in ACV sometimes brings relief to people with certain digestive disorders. Nevertheless, I wouldn't take ACV without your doctor's approval because it could damage the delicate lining of your digestive tract.
Here are some other uses for the vinegar:
High Cholesterol.
An animal study published in the British Journal of Nutrition (2006) showed evidence that vinegar could lower cholesterol.  The scientists gave rats some acetic acid, and their cholesterol ratio improved. But they had permanent puckers on their face afterwards. Just kidding! xxx
Then there was an ARTICLE published in the Pakistan Journal of Biological Sciences, 2008, where researchers stated, "These results indicate that apple cider vinegar improved the serum lipid profile in normal and diabetic rats by decreasing serum TG, LDL-c and increasing serum HDL-c and may be of great value in managing the diabetic complications."
Weight Loss.
It's not definite, but a small study conducted in 2005 found that people who consume vinegar with meals feel fuller faster!  Early satiety means you eat less. ACV also contains chromium which helps balance blood sugar and suppresses cravings for carbs. Compounds in ACV appear to help a person break down fats a little bit easier too.
Arthritis.
ACV is derived from apples which give us "malic acid." This substance helps fight infections and also relieves pain. Malic acid may ease joint pain, fibromyalgia and gouty arthritis by dissolving uric acid deposits that form around joints. There are certain foods you can eat if you have arthritis and it will help you. To read my article about that, CLICK HERE and read The 6 Best Foods To Eat if You Have Arthritis.
Diabetes.
This is ACV's most promising effect.  Several studies have concluded that it may help control blood glucose.  A 2007 study published in Diabetes Care concluded that people with type 2 diabetes experienced about a 5 percent reduction in morning blood glucose levels. If you're interested in reading my book on this topic, CLICK HERE to be taken to Amazon, where you can learn more about, Diabetes Without Drugs: The 5 Step Program to Control Blood Sugar Naturally and Prevent Diabetes Complications.
Caution
As I explained above, apple cider vinegar is a fermentation product, and it is derived from pulverized apples. Just because it comes from something innocuous like apples doesn't mean you can't hurt yourself with it. ACV is a drug mugger of potassium. If you drink it like some people do, it can be dangerous. ACV has to be diluted and approached with common sense. ACV can reduce potassium levels to such an extent that it could make your muscles and nerves work poorly, and you may cramp. It can increase blood pressure, too, assuming you get too much and reduce potassium.
Apple cider vinegar contains a lot of enzymes, as well as minerals and vitamins. The naturally-occurring compounds could theoretically interact with diuretics, laxatives, blood thinners and medications often used to treat diabetes and heart diseases so run this by your physician before use.
Click the image below to receive my FREE ebook loaded with great healthy recipes for individuals with diabetes: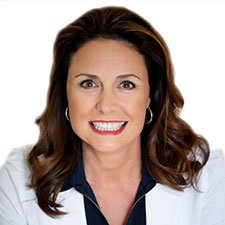 Suzy Cohen, has been a licensed pharmacist for over 30 years and believes the best approach to chronic illness is a combination of natural medicine and conventional. She founded her own dietary supplement company specializing in custom-formulas, some of which have patents. With a special focus on functional medicine, thyroid health and drug nutrient depletion, Suzy is the author of several related books including Thyroid Healthy, Drug Muggers, Diabetes Without Drugs, and a nationally syndicated column.