Asparagus is an excellent source of glutathione, an antioxidant that you make in your liver. Like all veggies, it's a very good source of fiber and natural folate. Asparagus contains vitamins A, C, E and K, as well as chromium, a trace mineral that helps you with insulin and the transportation of blood sugar into your cells. It's a good vegetable to eat if you have blood sugar abnormalities or diabetes.
It has natural diuretic properties. Some people notice that it makes their urine smell for a few hours. This is due to some sulfur-containing compounds. The human body converts asparagusic acid into sulfur-containing chemicals that have a sulfur odor. You only notice when you go to urinate after you've eaten asparagus. But if you're not genetically prone this won't happen to you.
Ingredients
1 cup Panko breading
1/2 cup grated Asiago cheese
1 to 1.5 lb organic asparagus, washed and trimmed into 2 or 3 inch "fries" if you'd like
1/4 cup rice or almond flour
1/4 tea onion/garlic powder
A dash of cayenne powder
Sea salt and pepper to taste
1 or 2 large eggs, lightly beaten
Directions
Preheat oven to 425 degrees. Combine Panko breading, Asiago cheese, onion/garlic powder and cayenne. This is your "Panko season mixture."
Now, dredge the asparagus "fries" into the rice (or almond) flour, then dip into the egg mixture, then dredge into the seasoned Panko season mixture. Make sure each asparagus spear is coated well. Place the asparagus in a single layer onto your baking sheet (which should be lightly oiled or foiled).
Bake for 10 to 15 minutes. Season with salt and pepper to taste. Serve warm.
You can serve plain or with ketchup, Caesar dressing or garlic aoli. Mmmm, I made these for a friend and she ate them so fast there were none left for me!
Check out my FREE ebook for a number of other healthy recipes for Diabetics:
CLICK LIKE to FOLLOW Suzy Cohen – Get Important Health Tips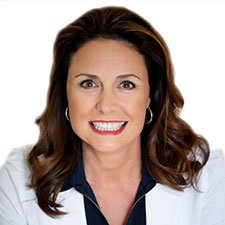 Suzy Cohen, has been a licensed pharmacist for over 30 years and believes the best approach to chronic illness is a combination of natural medicine and conventional. She founded her own dietary supplement company specializing in custom-formulas, some of which have patents. With a special focus on functional medicine, thyroid health and drug nutrient depletion, Suzy is the author of several related books including Thyroid Healthy, Drug Muggers, Diabetes Without Drugs, and a nationally syndicated column.