Ingredients for Loaf
1 cup all-purpose flour
3/4 cup almond flour
1/2 tea baking soda
1 and 1/2 TEA baking powder
1/2 TEA cinnamon
1/ 2 TEA sea salt
2 to 3 ripe bananas (equal to 1 cup mashed)
3/4 cup brown sugar, packed
2 large eggs
1/2 cup softened/melted butter
1 TEA vanilla
1 TEA banana extract
1/2 cup mini semi-sweet chocolate chips
1/2 cup chopped walnuts
Optional: 1 TBSP of sour cream

OPTIONAL TOPPING – you don't have to do this part
FOR THE TOP: Reserve a few very THIN slices of your banana (~ 12 slices) and about a tablespoon of chocolate chips to sprinkle on top. See picture of the raw batter with placement of the topping.

Directions
Preheat the oven to 325 degrees (regular NOT convection). In a medium bowl, combine the first 6 ingredients (the two different flours, baking soda, baking powder, cinnamon and salt) together until well mixed. Set aside. In another bowl, mix together the brown sugar and all the bananas, mashing it well until relatively smooth, then add your butter, eggs and vanilla extract. Stir well after each addition. Add the dry ingredients to this mixture and stir until combined. Then gently fold in the chocolate chips.
Pour the batter into your desired greased loaf pan. You can also line a loaf pan with parchment paper making easier removal of the cooked loaf. If you want to add the decorative topping, this would be the time to do it. You put that on before baking. Decorate with the slices of banana and a sprinkling of a few more chocolate chips. I don't like the topping because the bananas get a little mushy, but my husband and neighbors love it because it looks nice and adds more flavor to the loaf.

Bake the bread in a greased 9×5 inch banana loaf pan, or alternatively two 7×5 inch greased disposable aluminum foil baking trays. (I use these when I want a thinner loaf because it doesn't get too tall). I get many compliments for the loaf pan that I used to take the pictures and I bought that one off Amazon, the brand is Wisenvoy. It comes in other colors too.
By the way, baking time varies somewhat, it almost always takes 60 minutes, sometimes 70 minutes, but you need to watch your own oven. You know the loaf is fully cooked when the top is a nice golden brown, and an inserted toothpick comes out clean. Let it rest in the pan for 10 minutes or so before removing.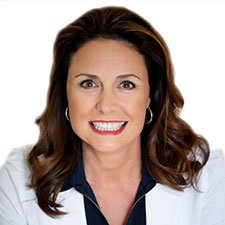 Suzy Cohen, has been a licensed pharmacist for over 30 years and believes the best approach to chronic illness is a combination of natural medicine and conventional. She founded her own dietary supplement company specializing in custom-formulas, some of which have patents. With a special focus on functional medicine, thyroid health and drug nutrient depletion, Suzy is the author of several related books including Thyroid Healthy, Drug Muggers, Diabetes Without Drugs, and a nationally syndicated column.