Ingredients
1 lbs. stew meat (chuck or bottom round), cubed
1 small onion, diced
2 garlic cloves, minced
2 medium potatoes, peeled chopped
2 large carrots, peeled, chopped
1 stalks celery, diced
1 cup white mushrooms, coarsely sliced (optional)
1 1/2 cups fresh tomatoes, seeded, diced
2 cups beef broth
1/4 cup fresh parsley, chopped
1 teaspoon fresh thyme, minced
1/2 teaspoon sweet paprika
1/8 teaspoon cayenne pepper (optional)
1 bay leaves
2 tablespoon all-purpose flour
1/4 cup olive oil, plus extra
1 teaspoon Worcestershire sauce
3/4 cup Cabernet Sauvignon or Merlot
Ground black pepper
Sea Salt
Optional: 1 sheet of puff pastry, thawed
Instructions
Season the beef with salt and black pepper and set aside. Using a large pot, heat 2 tablespoons of olive oil. While the olive oil is heating up, coat the beef lightly with flour. Add the beef to the pot in batches, and cook until each side is browned. Add more olive oil, as needed. Take out the beef, place it in a bowl, and set aside.
Using the same pot over medium heat, add two tablespoons of olive oil and sauté the onions for two minutes. Add the garlic, bay leaf, potatoes, carrots, and celery. Then sauté for 2-3 minutes. Next, add the beef broth, Worcestershire sauce, mushrooms, tomatoes, parsley, thyme, cayenne pepper and paprika. Season with sea salt and black pepper. Increase the heat to high until it comes to a boil, add the wine and the beef and stir. Cover the pot, decrease the heat to low, and let simmer for 2 hours or until the vegetables and meat are tender. Season with more salt and pepper if needed. You can serve it as is or follow the next steps if using the puff pastry.
Take the beef stew off the burner and place in an 9″ pie dish and set aside.
Note: Only fill the pie pan with enough stew to reach close to the top. Do not overfill the pie pan. Save the leftovers for another meal.
Preheat the oven to 400 degrees.
Take the puff pastry out of the package and gently place it over the top of the pie dish. Crimping the sides around the pan. Using a knife, cut at least 4 – 6 slits into the top of the pie. Place it on an aluminum lined baking sheet. Bake in the oven for 25-30 minutes until puffed and golden. Let it cool for 5-10 minutes before serving.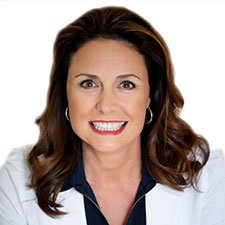 Suzy Cohen, has been a licensed pharmacist for over 30 years and believes the best approach to chronic illness is a combination of natural medicine and conventional. She founded her own dietary supplement company specializing in custom-formulas, some of which have patents. With a special focus on functional medicine, thyroid health and drug nutrient depletion, Suzy is the author of several related books including Thyroid Healthy, Drug Muggers, Diabetes Without Drugs, and a nationally syndicated column.