Ingredients
2 large chicken breasts, boneless, skinless, sliced into 2-inch chunks
High temperature (smoke) point oil for frying/sautéing such as sesame, palm oil, rice bran, safflower or avocado oil.
1 – 2 cups unbleached all-purpose flour (substitute cassava flour, tapioca starch, or corn starch for gluten-free option)
1 large egg
1/2 cup milk
1/2 teaspoon paprika
1/4 teaspoon garlic powder
1/8 teaspoon cayenne pepper
4 celery stalks, trimmed, cut crosswise into 4″ pieces
2 tablespoons butter
1/2 cup Frank's Buffalo Sauce
Blue cheese dressing for dipping
OPTIONAL: 1 – 2 sprigs fresh parsley, for garnish
Sea salt & Pepper to taste

Directions
Season the chicken pieces with the paprika, garlic powder, cayenne pepper, salt and pepper and set aside. In a small bowl whisk together the egg and the milk. In another bowl add the flour. Dip each piece of chicken in the egg mixture, then roll the pieces in the flour until they are fully coated. Place the pieces on a plate. Note: For a thicker crust, repeat this process so each piece of chicken is double-coated.

Heat your high temp cooking oil in a large saucepan over medium or medium-high heat. Once the oil is hot, fry the chicken in batches until they are nicely browned, turning them once, about 5 to 6 minutes. Remove the chicken pieces onto a plate.

Heat the buffalo sauce and the butter. Transfer the cooked chicken pieces onto a serving platter and pour your warm sauce over them. Garnish with parsley. Serve with the celery strips and blue cheese dip.
CLICK LIKE to FOLLOW Suzy Cohen – Get Important Health Tips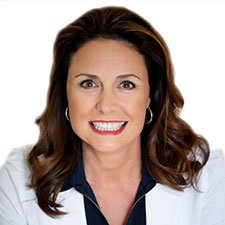 Suzy Cohen, has been a licensed pharmacist for over 30 years and believes the best approach to chronic illness is a combination of natural medicine and conventional. She founded her own dietary supplement company specializing in custom-formulas, some of which have patents. With a special focus on functional medicine, thyroid health and drug nutrient depletion, Suzy is the author of several related books including Thyroid Healthy, Drug Muggers, Diabetes Without Drugs, and a nationally syndicated column.