My friend Sudi made this marinade and her hubby MItch grilled it. She brought it over to our house one night, and Sam and I honestly lost our minds! It was the tastiest grilled chicken we'd ever had. I deconstructed the recipe based upon taste because I couldn't get the exact one from Sudi (she is a whirlwind cook, never making the same thing twice!) Anyway, this blend is going to be amazing and you will never use another marinade again! It's CRAZY good. You need to keep it marinating for at least 24 hours, and up to 48 hours, and make sure you turn it periodically so all the chicken is covered.
Ingredients
1 1/2 cup olive oil
2 TBSP onion-garlic powder
2 TEA salt
1 TEA pepper
Lemon Juice – the juice of 2 lemons (~ 1/2 cup lemon juice altogether)
1 sprig rosemary
3 sprigs fresh dill
4 sprigs fresh thyme
6-8 bone-in chicken thighs with skin (or 3 cornish hens)

Directions:
Prepare the marinade for this by combining all of the ingredients in a mixing bowl, and whisk it together. Wash the chicken thighs and pat dry, then place into a storage container. They can stack on top of eachother. Cover with your seasoned marinade. I marinate for at least 24 hours. When ready to cook, either grill it if you can, or pan fry it. To grill, heat in a cast iron skillet, medium-high for about 5 minutes each side to gently char the skin. Then reduce the temperature to low-medium for about 5 minutes each side, you can cover it too. The cook time varies according to your liking… so ask yourself, do you like the outside charred? Do you like it well-done, or medium? It also varies according to your grill (or what kind of pan you use), so keep an eye on it and cook your chicken to your preference. Serve immediately.

(OPTIONAL: To pan fry, place the marinated chicken on a pan, and cook on medium for about 7-10 minutes, then turn over.)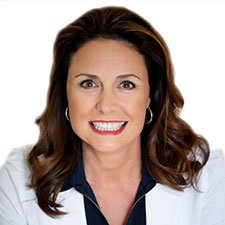 Suzy Cohen, has been a licensed pharmacist for over 30 years and believes the best approach to chronic illness is a combination of natural medicine and conventional. She founded her own dietary supplement company specializing in custom-formulas, some of which have patents. With a special focus on functional medicine, thyroid health and drug nutrient depletion, Suzy is the author of several related books including Thyroid Healthy, Drug Muggers, Diabetes Without Drugs, and a nationally syndicated column.