Ingredients
1/4 cup EVOO (Extra Virgin Olive Oil) or 6 Tablespoons * butter (whichever you prefer)
1 shallot, chopped (or 1/2 onion if you don't have shallots)
1 cup broccoli florets
1/2 cup organic Shiitake mushrooms, sliced
1 package (approx. 16 oz) fettucine or penne pasta, cooked (Okay if gluten-free!)
12 oz Honey-smoked salmon, cut into bite-size pieces.
(You can cook it yourself or buy it wild-caught smoked salmon commercially packaged)
1 Teaspoon Onion-Garlic powder
2 cloves garlic, minced
2 cups milk
2 Tablespoons Rice Flour  (or Unbleached All Purpose)
1/2 cup grated Parmesan or Romano cheese
Fresh parsley and dill
Dash of smoked salt
Directions
For the pasta: Bring a large pot of lsalted water to a boil, then add pasta. Cook for 8 to 10 minutes or until al dente and drain. Set aside.
For the creamy sauce: Heat the oil in a large skillet over medium low heat. Stir in fresh minced garlic, chopped shallots and sliced mushrooms then, saute until tender. Your house will smell delicious! Then gently whisk the flour and onion-garlic powder into the heated butter mixture. Gradually whisk in milk. Heat slowly, just below the boiling point, and then gradually stir in the Parmesan cheese until your sauce is smooth. Stir in broccoli and and a little chopped fresh parsley, gently cook on low for 4 to 6 minutes.
When the sauce has reached desired thickness, add the cooked pasta to the skillet and stir it all together. Toss in the smoked salmon and continue to warm the entire dish, or do what I do and put it into the oven and bake at 425 for 5 minutes with some cheese and butter on top, to brown it. It makes an incredibly satisfying and beautiful casserole that even the kids will want! This is a sneaky way of getting DHA into the kids, from the wild-caught salmon.
Garnish with fresh parsley and/or sprigs of dill. Add a dash of smoked salt and serve warm. Serves 4.
*Butter is used in Paleo recipes whereas Olive Oil is used in The Mediterranean Diet protocol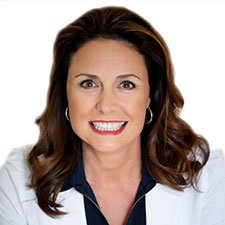 Suzy Cohen, has been a licensed pharmacist for over 30 years and believes the best approach to chronic illness is a combination of natural medicine and conventional. She founded her own dietary supplement company specializing in custom-formulas, some of which have patents. With a special focus on functional medicine, thyroid health and drug nutrient depletion, Suzy is the author of several related books including Thyroid Healthy, Drug Muggers, Diabetes Without Drugs, and a nationally syndicated column.