Your vision is your dominant sense, essential to your ability to function in the world and enjoy your life. What would you do without it? Unfortunately, many people have to find out as they get older. Vision loss is common among the senior population.
Because it's so common, many people believe that vision loss is just an inevitable consequence of aging. But I'm never going to tell you to just accept that your body will fall apart as you get older! While it's true that age is a risk factor for vision loss, you can take steps right now to help protect your eyesight as you age. What you do now does matter.
Let's talk about the most common eyesight thieves and what you can you do to help yourself.
What causes vision loss with aging?
Age-related macular degeneration. Age-related macular degeneration of AMD is the leading cause of irreversible BLINDNESS in adults over age 30.
This condition causes a breakdown of the macula, which is the central part of the retina, the light-sensing tissue at the back of the eye. The macula is where your vision is sharpest, allowing you easily read, quickly identify faces, and drive defensively. It allows for sharpness and clarity.
If you want to find out just how important your macula is, try looking at a page of a book. Keeping your eyes focused in the center of the page, see if you can read any words outside of that central field. You'll find that you cannot see well enough to read outside of a very small area. Your brain is very, very good at creating the illusion that your whole eye can perceive everything with sharp focus, when that's not the truth at all! Weird, right?
When the macula breaks down, vision doesn't go completely dark, but you generally can't see well enough to get through your day with ease and comfort. You don't walk with confidence because everything is more blurry. Sadly, there aren't many treatment options for AMD. Once the macula is gone, vision can't be restored. Prevention in this case is important because it's a devastating disorder.
Cataracts
Cataracts are also a very common cause of vision loss, affecting over half of Americans by the age of 80 For more information and statistics you can visit the National Eye Institute by CLICKING HERE. This is a clouding of the lens of the eye, which is the clear part located just behind the pupil that focuses light. Oxidative damage from free radicals to the proteins in the lens cause them to go from clear to opaque (solid), resulting in the milky-looking pupils of cataracts.
The only way to treat cataracts is to surgically remove the lens of the eye (yikes!) and replace it with an artificial one. The artificial lenses aren't the same as a natural lens, and even with the incredible improvement of technology, your natural lens still works better. Plus most people would rather avoid having a surgeon cut their eye open to replace a piece of it. It would be my last resort.
Medicine Makes Your Eyesight Fuzzy
Sometimes the medicine you take makes you see less clearly. Antihistamines like loratadine and tri-cyclic antidepressants (like amitriptyline) can cause blurry vision. Other medications include diphenhydramine, benztropine, nortriptyline, sertraline, paroxetine, cyclobenzaprine, methocarbamol and many other medications especially those in the category of anti-choinergic medications.
Fuzzy isn't bad, in fact, I like "fuzzy" eye puzzles, and if you squint you will see an image suddenly appear here in 3 dimensional form. This is called a stereogram, and I love these puzzles. You can find more of them online, and in the famous book, Magic Eye.
Can you see the animal?
Seek professional help
Don't wait. As soon as you notice changes in your eyesight, see an ophthalmologist. The changes could be subtle, but still have routine check ups because it's much easier to head off problems before your vision is too far gone. It's worth mentioning to your Medical Doctor as well because sometimes eyesight is impaired due to diabetes, heart disease or other conditions that include microvascular complications. The changes in your vision will help your doctor conclude with a more accurate diagnosis.
Vision-protecting foods
If you're concerned about losing your vision as you age, one simple thing you can do is to make sure that your diet contains plenty of eye-loving foods. Certain nutrients have been repeatedly documented in clinical trials for their ability to help with AMD and cataracts. If you have a family history of AMD, it's crucial that you consider optimizing your diet to minimize the chances that you end up losing your eyesight.
Of course, no one can guarantee that your genes won't still win out, but at least you'll have given yourself the best possible chance of seeing your grandchildren grow up, with your own two eyes. Some of the best vision-protecting foods include citrus foods, nuts, hemp seeds, walnuts, almonds, cashews, salads, sweet potatoes, pumpkin seeds, and seafood. Water is also important. Dehydration will make your vision blurry.
Lutein and zeaxanthin
These are two types of carotenoids, meaning that they're in the same family of antioxidants as beta-carotene (the natural precursor to vitamin A). This group of compounds is red, orange, or yellow, and is found in a variety of different fruits and veggies. You don't make lutein or zeaxanthin, you have to eat foods that impart them are orange fruits and vegetables like carrots, pumpkin and salads. I'll tell you about more foods further down.
Lutein and zeaxanthin are very special carotenoids. You get them through diet or supplementation. These two are deposited in high amounts in your retina, the light-sensitive part of your eye. Once there, they filter out high-energy wavelengths of light that can damage the cells of the retina. They also act as antioxidants, protecting the retinal cells from oxidative damage. The amount of lutein and zeaxanthin in the retina is known as the macular PIGMENT optical density, and it's a very useful predictor of the risk of vision loss. The more lutein and zeaxanthin found in the retina, the lower the risk of AMD.
The human body doesn't make its own lutein and zeaxanthin, so again, you have to get these special nutrients by eating right and/or supplementing. The best sources of lutein and zeaxanthin are leafy greens, squash, Brussels sprouts, broccoli, and egg yolks. Carrots have some too, so yes, carrots are good for your eyes! You knew I'd mention them at some point.
Vitamins C and E
Like the carotenoids which are food-based antioxidants, Vitamin C and Vitamin E are also antioxidants. These two powerful nutrients protect the tiny cells of your eye from oxidative damage. Both of these vitamins help you maintain healthy blood vessels. That's huge. You see, blood vessels improve blood flow to your eye and this is imperative to good vision. This is why some people try ginkgo and vinpocetine too. It's a problem with blood flow through the tiny capillaries that lead to the eye which causes blindness in diabetes. It's a microvascular complication. So improving blood flow though the maintenance of your blood vessels is improtant.
This isn't guesswork. STUDIES have been done on it repeatedly. Getting enough of both of these vitamins is known to help prevent both AMD and cataracts. Good food sources of vitamin C include tangerines, oranges, watermelon, cantoloupe, strawberries, broccoli, bell peppers, and strawberries. Vitamin E can be obtained from seeds (especially sunflower), nuts (especially almonds), and leafy greens like spinach. You can also supplement with these nutrients if you want to and your practitioners approve.
Zinc
Zinc is a versatile mineral, involved in the actions of many different enzymes throughout the body. In the eye, zinc is highly concentrated in your retina and especially in the macula, where it helps to make a pigment called melanin that absorbs harmful light. Melanin is a pigment that is made in your body by melanocytes. It's in your skin too, it protects against UV radiation.
The more melanin you have, the more brown your eyes are. Zinc supports melanin production in the body.
Studies have been done to show that higher dietary intake of zinc may protect against AMD. Not only that but the powerful prostate-loving mineral can also help with cataracts!
Higher dietary intake of zinc has been shown to protect against AMD and CATARACTS.
You can supplement with a little zinc if you choose to, just don't take excessive amounts (which differs from person to person) because you'll cause a relative copper deficiency. For some, 5mg per day is excessive, for others, 50mg per day would be excessive. It's a very personal thing based upon how much zinc you already have in your body (which I can't possibly know) that's why I'm not suggesting a dose.
Ideally, it's best to eat zinc-rich foods such as seafood, but also beef and poultry, beans, nuts (especially cashews and almonds), and my favorite, dark chocolate! Foods high in zinc are aphrodisiacs due to the zinc supporting prostate health.
EPA and DHA Fish Oils
While fish oils aren't a cure for AMD, I'm still a big believer in them. I think they're important to offset some of the medication induced vision damage that naturally occurs over time through usage of statins, nonsteroidal anti-inflammatory drugs, steroids and seizure medicine. Fish oils also suppress the inflammatory mediators such as thromboxanes, prostaglandins and leukotrienes. There's now a clearer understanding that inflammation in our body does not passively take place.
There are good compounds being discovered called resolvins, protectins, and maresins which work to reduce inflammation in your body and essential fatty acids help protect those compounds, thus speeding the rate at which you reduce inflammation. Fish oils, both EPA and DHA are very good for the body, and also for eye health. DHA accounts for more than one-third of the fatty acids in the retina of your eye. I happen to know this and created a High-DHA supplement, one of the strongest available on the US market without a prescription.
Remember, everything you take is going to be synergistic!
Each of these nutrients that I've talked about plays a role, they are each important, yet it's the combination of all of them, plus many more (including a bunch that scientists haven't really discovered yet), that protect your eyesight. There's no one magic bullet.
Focusing on just one vitamin is unlikely to have much of an effect. You really need a combination of foods, antioxidants, lubricating oils and so forth, if you want to have excellent vision.
This is why I promote natural approaches to health. The body is way too complicated to just focus on one vitamin (for example beta carotene). That's good, but you need more. Some people don't even convert beta carotene to vitamin A due to a BCOM1 gene SNP.
So eating whole foods is the best way to ensure that you're getting all of nature's medicine, not just one isolated component.
Can one REALLY prevent vision loss by supplementing with nutrients?
A landmark clinical study called the Age-Related Eye Disease Study (AREDS) sought out to find out. The participants in the study were at high risk for developing advanced AMD, either because they already had an intermediate form of it, or because they had advanced disease in one of their eyes.
In this well-designed, placebo-controlled TRIAL, they took a supplement that contained antioxidants and zinc. The study was repeated years later with a slightly different formulation that included Omega 3 Fatty acids, and this STUDY replaced the beta-carotene from the first trial with lutein and zeaxanthin.
Anyway, the point is, people who took BOTH the antioxidants and the zinc had a slower rate of progression of their disease, and the key was taking them in combination. In these studies, adding the omega-3s didn't actually seem to do much for eyesight protection, although they've been shown to have other profound beneficial health effects, in particular, lubrication of dry eye syndrome.* Fish oils are anti-inflammatory as you know, so they suppress the inflammatory mediators such as thromboxanes, prostaglandins and leukotrienes.
If you're thinking that this means you should take these supplements, just note a couple of things. The doses of these vitamins in the study were super high… much higher than you'd get through diet or even by taking a multivitamin. In fact, a lot of the study participants were also taking a multivitamin, in addition to the AREDS supplements.
If you wanted to get the benefit to your vision, you'd have to make sure you were taking similar doses, and approve it with your physician because high doses of vitamins can act a little bit like drugs. Why? It throws off all your metabolic pathways and sometimes spawns free radicals. That's why I'm not a big believer in high dose vitamins for very long.
Also, vitamins can interact with prescription drugs, so again, if you decide to self-treat, make sure you have your doctor's blessings before beginning your journey.
Because they're similar on a molecular level, zinc and copper compete with each other for absorption in the intestine. If you take a high dose supplement of zinc, it may prevent the absorption of copper, leading to a deficiency. And vice versa.
This is why zinc supplements typically also contain copper. But copper can be estrogenic and that's not good for many women.
Also note that the people in the AREDS study already had at least intermediate AMD, and this supplement helped to prevent it from progressing. That's NOT the same thing as preventing it in the first place.
Although all of the vitamins were chosen to be included in the supplement because other research had shown that they can REDUCE the RISK of AMD, that doesn't mean that the high-dose supplement will do so. In my mind, it's preferable to obtain healthy nutrients through natural, delicious whole foods.
Wear sunglasses
And not just to look cool…although that's a nice added bonus! Wearing sunglasses when you're outside exposed to bright sunlight reduces the amount of UV light that your eyes are exposed to. Ultraviolet light can hurt your eyes so squinting isn't good.
Studies have actually shown that exposing your eyes to UV light can promote the development of both AMD and cataracts. It's not even just UV light. Also, short-wavelength blue light from your devices might be able to effect NEGATIVE CHANGES in your eyesight.
Unfortunately, a recent STUDY in Hawaii found that only one-third of the beach visitors (or pool occupants) on a sunny afternoon were wearing their sunglasses. Researchers looked at over 5,000 sun worshippers there and determined that little factoid.
I think I need to go to Hawaii to verify this, wanna come with me? Seriously, it's such a simple way to protect your eyes, buy a pear of UV protective sunglasses.
There's usually a little sticker on the lens verifying this. Sunglasses with dark lenses may block visible light, but you can't tell just by looking at the lens color whether they also protect against UV. So make sure you check that what you're buying will actually do what you want it to.
I have all kinds of sunglasses, some are $19 that I bought at a Jiffy Store 😂 another pair is Maui Jim, my favorites because I can see my world through rose-colored glasses🌹 I always have my sunglasses on, and if they're not on my eyes, they're usually on top of my head! You've probably noticed that in some of my youtube and photos 😎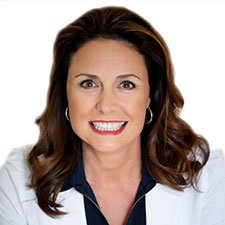 Suzy Cohen, has been a licensed pharmacist for over 30 years and believes the best approach to chronic illness is a combination of natural medicine and conventional. She founded her own dietary supplement company specializing in custom-formulas, some of which have patents. With a special focus on functional medicine, thyroid health and drug nutrient depletion, Suzy is the author of several related books including Thyroid Healthy, Drug Muggers, Diabetes Without Drugs, and a nationally syndicated column.