As the country has opened up these past few months, I find myself carrying hand sanitizer with me. Hand sanitizers are a must if you travel because they quickly eliminate 99.9% of germs (at least the ones tested!) and you can carry these in your purse, or pocket, and keep in the car.

With the pandemic this year, hand sanitizers became instantly essential. A lot of sanitizers are capable of destroying certain pneumonia and influenza strains, E.coli and MRSA in seconds.

There's a reason sanitizers sell like hotcakes, but please be careful because some opportunistic "business" folks are now making a killing at your expense. They're formulating toxic garbage at home, and then selling it online to people. You cannot trust everything available right now.
On August 27, 2020, the Food and Drug Administration issued a new WARNING to us to make sure that we do not buy or use any hand sanitizers that contain methanol or 1-propanol. If you are uncertain if your current hand sanitizer contains these toxins, CLICK HERE to be redirected to an FDA website that lists products by names that you should not be using.
You can make your own, and there are many recipes on various different hand sanitizers that are easy and fun to make. You can read an ARTICLE I wrote earlier this year, "How to Make Your Own Hand Sanitizer."
Today, I'll list some of the safest commercial hand sanitizers on the market. Some of them are sprays, others are wipes, and so on.
The list I've created for you below is based upon the investigations by a famous organization called EWG Skin Deep. They have a website by that name too. As to where you can purchase any of these, I'd suggest looking online, or asking your local health food store manager.

In no particular order, these might appeal to you:

Hero Wipes – These have alcohol and aloe in them, plus more. Each wipe is individually wrapped in a pouch to keep it sterile. They are pretty resilient if you are vigorous with them.

Elyptol Antimicrobial Hand Sanitizer – These come in wipes, gel and spray, so you can pick. As you may have guessed from its name, the product boasts the use of natural eucalyptus, which reduces risk of contact dermatitis and provides a broad range of 'kill' properties.
Everyone Peppermint Citrus Hand Sanitizer – There are other scents aside from that one, but this brand offers another option utilizing alcohol (derived from non-GMO sugar cane), with aloe and glycerin so it won't feel as drying.

Pipette Hand Sanitizer – Just a few ingredients like ethanol, squalene for moisture, glycerin and a pH adjuster, this product is fragrance free. It's gentle enough for kids according to their website.

Organic to Green Lavender Lemon – This contains some alcohol along with glycerin, organic coconut, lavender and lemon peel oil. When I read the natural, but powerful ingredient list, I was jealous I hadn't thought of this formula myself, lol.

Dr. Bronner's Lavender Hand Sanitizer – Another awesome product and sold widely in health food stores, this brand utilizes the strength of Fair Trade ethanol along with organic peppermint oil and glycerin.

All Terrain Fragrance Free – This gel sanitizer contains aloe, ethanol, glycerine, hydroxy ethylcellulose and a little bit of water. 

EO Hand Sanitizer Spray or Wipes – This is an easy-to-find brand that is great because it uses alcohol (sourced from non-GMO sugar cane), plus lavender essential oil, Echinacea herb (an antibacterial), and some glycerin.
Grove Collaborative Blood Orange Sanitizer – This product utilizes ethanol plus aloe, orange oil, coconut and sunflower seed oil, plus jojoba. This is an awesome combination, and one that will leave your hands feeling nourished. It also comes in lavender.
Epic Wipes – These are substantial, like a small towel, so you can wipe down your dog, or take them camping, or wipe down groceries. I keep a pack in my Subaru's glove compartment. I wish I had these to use on the kids when they were done playing in those big, giant germ pits.😬 You know, the ball pits for toddlers that were set up at the fast food restaurants in the 90's. These towels are biodegradable, and made using bamboo-derived viscose, with some eucalyptus essential oil.

Grown Alchemist – These contain luscious ingredients which are hydrating and very nice, and another perk is that there is stock available (probably because the price is $17.65 for just ONE ounce on Amazon, so one bottle is currently $30. It is an Australian product. This contains alcohol as the regular disinfectant, "Corallina (algae) extract,) a special hyaluronic acid blend called, sweet almond oil, coconut oil, clary sage, cedarwood, orange oil and other antibacterial essential oils. I like the ingredient list, but I don't know how it smells.
For more tips on how to avoid needless exposure to bacteria and viruses, read "Spit Happens – On Your Birthday Cake!" and "Don't Blow Dry Your Hands!"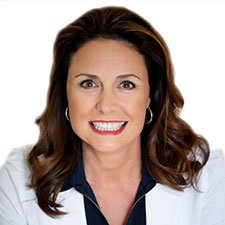 Suzy Cohen, has been a licensed pharmacist for over 30 years and believes the best approach to chronic illness is a combination of natural medicine and conventional. She founded her own dietary supplement company specializing in custom-formulas, some of which have patents. With a special focus on functional medicine, thyroid health and drug nutrient depletion, Suzy is the author of several related books including Thyroid Healthy, Drug Muggers, Diabetes Without Drugs, and a nationally syndicated column.