This heavenly cream of mushroom soup was inspired after visiting the Farmer's Market and purchasing some fresh shiitake and Royal Trumpet mushrooms. I would normally use Portabella for a mushroom soup, why waste the expensive ones on mushroom soup, right? So this soup will taste just as delicious no matter what mushrooms you use, just be sure to brown them a little bit in the butter, it lends a richer flavor to the finished soup. As for shiitake, this mushroom has some immunity benefits which you can read about in this STUDY.
I only used about a cup of the Royal Trumpet mushrooms but some folks consider them and their extracts to be superfoods. Extracts of these mushrooms have been studied to help with cholesterol and weight concerns. Studies suggest they may help reduce the risk for cancer.
The flavor of this soup is heavenly, and that's because I used a lot of dried herbal spices. If you don't like something I've listed just substitute that spice for something else. At the end of the day, the mushroom will pick up the flavor of whatever spice you use.
If you don't have a Vitamix® no problem, use whatever blender or food processor you have. Mushroom soup is not a difficult thing to blend, you really don't need a powerful Vitamix for it… I only use that because that's all I have here.
Ingredients for Cream of Mushroom Soup
6 TBSP butter
1/2 cup onion, chopped
5 cups total mushrooms (I used 1 cup Royal Trumpet mushrooms + 4 cups shiitake)*  cremini, oyster mushrooms, etc)
1/2 TEA dried mustard powder
1-1/2 TEA dried onion-garlic powder
1/2 TEA dried thyme
1/2 TEA dried rosemary
1/2 TEA dried parsley
1/4 TEA ground nutmeg
1 TEA salt and a dash of pepper
3 cups of water
1/4 cup corn starch plus enough milk to equal = 1 cup total (whisk it together in your measuring cup so it's smooth)
Optional: Garnish with some sauteed mushroom and thyme
*NOTE: There's a myth that you can't wash mushrooms in water, but it's not true. You can rinse them under cold water for 20 – 30 seconds if desired, and dry them off then immediately slice them, and then cook them.
Mushrooms are hard to measure, I used about 5 cups, possibly 6, and combined my mushrooms, however, you can use any type you want. For example, you can use all portabella… or 1/2 shiitake and 1/2 oyster mushrooms, or cremini which are basically "baby bella" mushrooms. It doesn't matter, you're going to grind it up anyway, and whatever mushroom you use will not matter anymore.
Where it calls for milk, you may use low-fat milk, 2% or full-fat. You may also use half-and-half or heavy cream if you'd like! Decide this part based on what you have in your fridge, or on how much fat content you want the soup to have. As for thickness, the milk you use will not matter because the thickness is coming from the corn starch that is combined with it. The flavor will be richer if you use a full-fat milk or half-and-half. Alternative "unflavored" milks work too, in case you keep dairy-free.
Directions to make mushroom soup
Heat the onion in the butter to soften the onions, then add the mushrooms. Saute this for about 5 – 7 minutes until nice and brown. If you plan to garnish your soup with a few chunky mushrooms, this is the time to remove a couple of spoonfuls so you can use them later.
Add the water and all of your dried spices to the pot with the sauteed mushrooms/butter/onions. Keep stirring with a wooden spoon on medium-high heat. Pour into a glass measuring cup 1/4 cup of cornstarch, then fill it to the line of "1 cup" with some milk. See my note above about what kind of milk to use.
Pour that into the soup very slowly and whisk it with a large whisk.
Bring to a quick boil, then reduce the temperature to simmer and allow it to thicken over the next 5 minutes. Turn off the temperature and take a taste, and adjust your spices. When satisfied, blend it in a Vitamix for about 30 seconds on high. Garnish with parsley and sauteed mushrooms. Serve with crusty sourdough bread!
By the way, if you are interested in the health benefits of making mushroom soup with some shiitake mushrooms as part of your blend, I have an article you may be interested in: Shiitake Happens to Protect You From Cancer.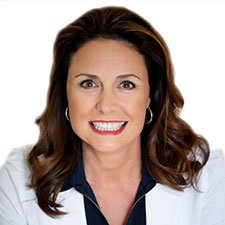 Suzy Cohen, has been a licensed pharmacist for over 30 years and believes the best approach to chronic illness is a combination of natural medicine and conventional. She founded her own dietary supplement company specializing in custom-formulas, some of which have patents. With a special focus on functional medicine, thyroid health and drug nutrient depletion, Suzy is the author of several related books including Thyroid Healthy, Drug Muggers, Diabetes Without Drugs, and a nationally syndicated column.