INGREDIENTS
2 tablespoons butter
1 cup + 2  tablespoons organic cane sugar, divided
8 large eggs, separated
2 teaspoons vanilla extract
1 tablespoon freshly squeezed lemon juice
2 ½ cups almond flour
2 tablespoons gluten-free flour blend
2 teaspoons baking powder
1/2  teaspoon salt
Zest of 1 lemon
Powdered sugar for sprinkling
¼ cup lightly toasted sliced almonds for garnish
DIRECTIONS
Preheat oven to 350 degrees.
Liberally grease the inside of a Bundt pan with butter. Sprinkle the 2 tablespoons of sugar into the bottom and up the sides and middle of the pan.
Set up your electric mixer with 2 mixing bowls ready to use.  In the larger bowl, beat together the egg yolks, 1/2 cup of the remaining sugar, vanilla and the lemon juice until fluffy and pale yellow.  Set aside.
In the smaller bowl, whip the egg whites until they form stiff peaks. Slowly beat in the remaining 1/2 cup sugar. Set aside.
In a third mixing bowl, whisk together the dry ingredients—flours, baking powder and salt—and add to the egg yolk mixture. Mix on low speed until a thick dough forms.
Add the lemon zest, then fold in the egg whites, ½ cup at a time, incorporating them fully between each addition.  Once the batter has a smooth and uniform consistency, pour it into the prepared pan.  Place the Bundt pan on a baking sheet and bake on center rack for 35-40 minutes, until golden brown and a toothpick inserted into the center comes out clean.
Remove from oven and allow it to cool in the pan for 10 minutes.  Turn out onto a pretty cake stand and once fully cooled, sprinkle with powdered sugar and top with toasted almonds.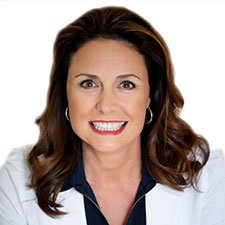 Suzy Cohen, has been a licensed pharmacist for over 30 years and believes the best approach to chronic illness is a combination of natural medicine and conventional. She founded her own dietary supplement company specializing in custom-formulas, some of which have patents. With a special focus on functional medicine, thyroid health and drug nutrient depletion, Suzy is the author of several related books including Thyroid Healthy, Drug Muggers, Diabetes Without Drugs, and a nationally syndicated column.