In 2022, we saw a real eclectic mix of new drugs and therapeutics that treat all sorts of diseases and will no doubt generate billions of dollars over the next 5 years. Many of these are new drugs that have been highly anticipated. Hopefully, there is something I list below that will help you or someone you love.

My column is printed in various languages but I'm only using English brand names, so please ask a pharmacist in your region for brand names available to you. 
Here are Some of the New Drugs of 2022
1. Quviviq® (daridorexant) Tablets, Rx: Pronounced "Q-vivik" this drug is made by Idorsia Pharmaceuticals. It is intended for adults who have insomnia and it's taken about 30 minutes before desired sleep, only on the nights needed. It is available in 25mg and 50mg tablets. It should not be used if you have serious liver problems, or if you do not intend to lay in bed for 7 hours. 
It will, like all other sleep medications on the market, leave you feeling a little woozy in the morning so don't jump out of bed without acclimating properly. Of course, do not operate machinery or drive either! We cannot say with 100 percent
certainty, but one small study suggests that this medication has slightly less abuse potential than zolpidem (Ambien®).  It belongs to the drug category of DORA which means it is a "dual orexin receptor antagonist." Ambien is in a different category. 
In clinical studies, people who took Quviviq reported that they were able to fall asleep about 30 minutes faster than usual and gain about 35 to 45 minutes of total sleep time compared to their baseline. Never combine this drug with alcohol or other sedatives, and certainly not with sedative hypnotic drugs like Ambien!
https://www.quviviq.com/
2. Cibinqo® (Abrocitini) Tablets, Rx: This medication is produced by Pfizer Pharmaceuticals and is useful for people who have atopic dermatitis, sometimes called eczema. The pill is taken once daily and works by blocking an enzyme in your body called JAK (short for Janus kinase) and is similar in its mechanism of action to Xeljanz®.
As for Cibinqo, the dose is 100mg per day for 3 months and if that doesn't work, speak to your doctor about other options, or about increasing the dosage. Contraindications to this medication include having any of the following blood dyscrasias:
Low lymphocytes
Low neutrophil counts
Low red blood cells
Low platelets

I like JAK inhibitors as a general rule. There are weaker natural herbal options in this category and one day I'll write a blog about those. Herbals don't work as efficiently as medications, however, they are free of harmful side effects. 
In the meantime, do not take this medication if you have serious heart problems or a history of blood clots. Common side effects include increased risk of infection, nausea/vomiting, fatigue, hypertension, dizziness, or mouth or throat pain.    To learn more visit Cibinqo.com. 

Before I leave the topic of skin problems, you might be interested in one more drug that was FDA-approved this year for severe psoriasis flare-ups. It's called Spevigo® and it is administered intravenously. 
3. Eluciremt® (Gadopiclenol)  and Vueway® (gadopiclenol) Injection, Rx: These are two new gadolinium-based contrast agents which are administered before an MRI to scan the body and see inside better. 
These drugs are supposed to be better than the older gadolinium-based agents which makes me happy because I've seen the harm done by those older ones! If you'd like to read my blog about older agents CLICK HERE.  If you are allergic to iodine-based contrast, these two new options are handy to have. You cannot use these drugs if you have chronic renal failure. They may acutely harm the kidneys even if you do not have a pre-existing problem. 
How to Insert Eye Drops Properly?
4. Omlonti® (Omidenepag) Eye Drops, Rx: These drops are in their own brand new medication category and the first to be approved. The drug is a selective "EP2 receptor agonist" which means it reduces excessive prostaglandin levels. When that happens fluid build-up in the eye reduces. The drops treat glaucoma and ocular hypertension, and could certainly be used in conjunction with herbal/vitamin remedies that support eye health.*
If you use this medication, you may see a change in eye color over months to years, it is very slow but permanent. Faster lash growth may occur as well. You can learn a little more about this medication at Drugs.com.
5. Elahere® (Mirvetuximab soravtansine-gynx) Injection, Rx: This medication is used to treat resistant cases of ovarian or fallopian tube cancer (also peritoneal cancer) with "folate receptor⁠–⁠alpha positive" attributes. It may cause neuropathy or eye problems, but it can help people who are resistant to platinum therapy or prior chemotherapy treatments.  For more information, visit Elahere.com.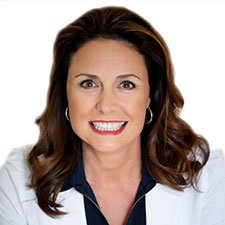 Suzy Cohen, has been a licensed pharmacist for over 30 years and believes the best approach to chronic illness is a combination of natural medicine and conventional. She founded her own dietary supplement company specializing in custom-formulas, some of which have patents. With a special focus on functional medicine, thyroid health and drug nutrient depletion, Suzy is the author of several related books including Thyroid Healthy, Drug Muggers, Diabetes Without Drugs, and a nationally syndicated column.