Dear Readers,
It's time for my annual article regarding new medications of the year. In 2019, a variety of novel entities received FDA approval, and some drugs were approved after just a few dozen people were tested! What you are reading is syndicated worldwide, however I will only list American brand names so please ask your medication specialist to find out a medication name as it is known in your country.
🎇Happy New Year everyone!
💗 Suzy
Vyondys 53 (Golodirsen), Rx, Injection
This medication was granted a fast track to approval for patients with Duchenne Muscular Dystrophy (DMD). This disorder is characterized by muscle deterioration and weakness and occurs due to a genetic mutation that deletes a protein (called dystrophin) which keeps muscle cells intact. By the time a child is 3 or 4 years old, the symptoms become evident. Jerry Lewis was a famous actor, comedian and singer and he hosted the famous telethons for Muscular Dystrophy until 2010. I imagine he would be really happy with this new treatment option available for DMD.
Oxbryta (Voxelotor), Rx, Injection
This medication helps treat people with the inherited blood disorder called Sickle Cell Disorder. This condition causes red blood cells to be shaped abnormally as a crescent or "sickle" shape which then restricts blood flow throughout the body. Without adequate blood flow, oxygen supply to the body's organs is limited leading to pain, inflammation and organ damage. Oxbryta is a new medication that inhibits a pathway in the body that improves hemoglobin levels and blood flow. The approval was fast tracked and based upon a clinical trial of only 274 people, but it had statistically significant positive results. Common side effects reported from this trial (not larger Phase 4 trials) include headache, diarrhea, abdominal pain, nausea, fatigue, rash and pyrexia (fever).
Fetroja (cefiderocol), Rx, Injection
This is a new antibiotic for Urinary Tract Infections (UTIs) that gets injected into your blood stream. It is in the category of beta-lactams so don't opt for this drug if you have an allergy to other beta-lactam antibiotics such as Penicillins, Cephalosporins, Augmentin or Amoxicillin. Here's a more complete list of Beta Lactams, in case you're wondering:
Amoxicillin/clavulanic acid (Augmentin)
Imipenem/cilastatin (Primaxin)
Imipenem/cilastatin/relebactam (Recarbrio)
Ampicillin/flucloxacillin (Infectrin)
Ampicillin/sulbactam (Unasyn)
Ceftazidime/avibactam (Zavicefta)
Piperacillin/tazobactam (Zosyn)
Ceftolozane/tazobactam (Zerbaxa)
Fetroja is intended to treat complicated UTIs and pyelonephritis that become life-threatening. The drug is not intended for the classic UTI which causes urgency and urinary pain. Think more dangerous (with few alternatives). This is a last resort type of medication in my opinion and will kill E. Coli, Klebsiella Klebsiella pneumoniae, Proteus mirabilis, Pseudomonas aeruginosa,and Enterobacter cloacae complex.
The most frequently occurring adverse reactions (so far in these preliminary trials) include diarrhea, infusion site reactions, constipation, rash, candidiasis, liver function abnormalities, vomiting, headache and hypokalemia.
Reyvow (Lasmiditan), Rx, Oral
This medication is for adults with migraines (with or without aura) and should not be taken if you plan to drive. It can cause intense drowsiness. It just received FDA approval as the first and only medication in its category. It is used for acute relief and is significant because migraine pain is severe and incapacitating for many people. If you'd like more information, I've written a wonderful book on the topic of migraines called Headache Free: Relieve Migraine, Tension, Cluster, Menstrual and Lyme Headaches
To buy on my site, click here.
To buy on Amazon, click here.
According to the FDA, the makers Lilly conducted a human abuse potential assessment. They concluded that, "… therapeutic doses of Reyvow were associated with less drug liking when compared to alprazolam, but more than placebo."
Treatment may cause some adverse events and the most frequently reported ones include dizziness, fatigue, paresthesia (tingling or numbing sensation on the skin), sedation (sleepiness or drowsiness), nausea and/or vomiting and muscle weakness.
Ibsrela (Tenapanor), Rx, Oral
For Parkinson's, this is a pill that you take twice a day, not injection. It's used to treat Irritable Bowel Syndrome (IBS) with constipation in adults. This medication may cause serious dehydration, especially in children or elderly. The most common side effects from the initial trials are diarrhea, which sometimes may be severe, abdominal distention, excessive gas and dizziness.
Accrufer (Ferric Maltol), Rx, Oral
These are capsules of iron to help people with iron deficiency anemia. The iron drug was approved by the FDA based upon three different clinical trials. The iron deficiency anemia was caused by one of two things. Either the patients' Inflammatory Bowel Disease (IBD) or by long standing kidney disease, but either way, iron stores were low and Accrufer was useful in increasing levels in the patients that took the drug twice daily. The study participants were primarily women.
Side effects varied, however there was an increase of flare-ups in IBD, as well as iron overload (from getting too high of a dose). The most commonly reported side effects with this medication were gas, diarrhea, constipation, stool color change, nausea, vomiting, and abdominal discomfort, bloating and pain.
You might be interested in another article that I wrote, CLICK HERE to read, Peppermint is a Cool Solution for IBS.
Xpovio (Selinexor), Rx, Oral
This medication pronounced, x-po-vee-o comes as a 20mg pill and was approved in July 2019 to treat Multiple Myeloma, a blood cancer. The drug is intended to be used along with a corticosteroid (such as dexamethasone or prednisone). It's actually not the first line agent, it's more likely to be used in patients who have been unresponsive to at least four other treatments.
The drug can be initiated twice weekly at 80mg (taken as four 20mg tablets) along with dexamethasone (unless side effects are intolerable). Xpovio was fast tracked through the FDA's approval program to allow earlier patient access and was based upon evidence from only 202 people with Multiple Myeloma. It works by binding "Exportin 1" which slows cancer cell growth.
Similarly to other myeloma treatments, Xpovio may cause reduced platelet counts termed thrombocytopenia (which lead to uncontrolled bleeding) if it gets out of control. The drug is also associated potentially with other blood dycrasias especially neutropenia. Low sodium called hyponatremia, frequent upper respiratory infections, gastrointestinal side effects and neurological problems were reported in the 202 people who tested the drug.
That last one is vague, and can be rather profound so I should give you a more definitive explanation of "neurological problems" before you jump into this in case you are preposed to cognitive or brain dysfunction and need closer supervision. By "neurological problems" they mean this: Dizziness, fainting, loss of consciousness, confusion, delirium and other mental status changes. These occurred in approximately one-third of patients treated with Xpovio and may be dose dependent. This drug may not be given to a woman who is pregnant as it has been shown to potentially cause fetal harm.
Balversa (Erdafitinib), Rx, Oral
Available in 3, 4 and 5mg, this is a pill that helps people with bladder cancer termed "urothelial carcinoma." It may be used in local, advanced or metastatic cancer whose chemotherapy did not work well enough (as in relapsing). Your physician can gauge your dosage, but generally speaking, this med can be taken orally, and can be taken daily unless otherwise prescribed.
Balversa is another medication that has been speeded through the FDA's approval process to make it available quickly to people who really need it. Thirty-two percent of 87 patients who were studied experienced either complete or partial shrinkage of their tumors. The study took place in hospitals across Asia, Europe and the United States.
As for side effects, Balversa may negatively affect the eyes. More specifically, it may lead to serious adverse damage to the cornea and retina and possibly retinal detachment. Blood phosphate levels need to be evaluated. This medication is teratogenic so never administer it to a pregnant woman. Typical side effects (other than those occurring in the eye) may include dry mouth, oral sores, fatigue, weakness, diarrhea, elevated serum creatinine and issues with the nailbeds –> fingernails and toenails.
Jeuveau (PrabotulinumtoxinA-xvfs), Rx, Injection
Think of this as a new type of Botox® for the simple reason that it is a botulinum derivative and it temporarily erases frown lines between your eyebrows (glabellar lines). It's pronounced Ju-Vo, and say it like you have a French accent 😉
Jeuveau was evaluated in 5 different clinical trials that encompassed more than 2,100 people, mainly women. The most commonly reported side effects in clinical trials include headache, eyelid drooping, upper respiratory tract infection and increased white blood cell count.
As you can see from the name, Prabotulinumtoxin A" this is a derivative of the same active ingredient in Botox (Onabotulinumtoxin A). In case you didn't realize this, Botox dominates the market, however there have been two other players in the cosmetic industry (they're just not used as much): Dysport® and Xeomin®
In comes Jeuveau in 2019. It's similar to those, but newer and a different botulinum compound. It's still a neurotoxin. As you know, neurotoxins can be injected into the face to fight wrinkles and beat the sagging effects caused by aging and gravity.
I  went to the website for Jeuveau and at the bottom in the black footer, it says this, "Problems swallowing, speaking, or breathing, due to weakening of associated muscles, can be severe and result in loss of life. You are at the highest risk if these problems are pre-existing before injection. Swallowing problems may last for several months."
According to the makers, this prescription medicine is injected into facial muscles and used to improve the look of moderate to severe frown lines between the eyebrows.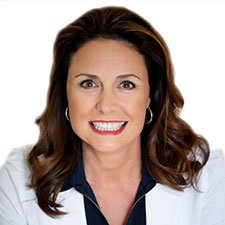 Suzy Cohen, has been a licensed pharmacist for over 30 years and believes the best approach to chronic illness is a combination of natural medicine and conventional. She founded her own dietary supplement company specializing in custom-formulas, some of which have patents. With a special focus on functional medicine, thyroid health and drug nutrient depletion, Suzy is the author of several related books including Thyroid Healthy, Drug Muggers, Diabetes Without Drugs, and a nationally syndicated column.