Ingredients
4 ripe kiwi, peeled and chopped
1 green apple, peel, cored and chopped
1 cup brown sugar
1 egg
1/2 cup melted butter (or grape seed oil)
Fresh, grated lemon peel, about 1 teaspoon
1 & 1/2 cups rice or finely ground almond flour
1/2 tea salt
1/2 tea baking powder
1/2 tea baking soda
1 tablespoon juice from lime (preferably Kaffir lime or Meyer lemon)
Directions
Chop the apples and kiwi such that you get about 1 and 1/2 cupfuls. Add the add sugar and grated lemon peel. Bring to simmer for about 5 minutes until it softens. Let it cool. Once cool, add the baking soda to cooked (but cool) kiwi/apple mixture. Stir until bubbles form.
In the meantime, beat the eggs and butter with a whisk. Blend your flour, baking powder and salt.  Mix everything together and stir gently until everything is consistent and moistened. You are going for the consistency of zucchini bread, so if you need to add more flower (or a little more juice) then don't be afraid. Spoon the batter into a greased loaf pan or a 9X9 glass dish or pie pan. Bake 350 degrees for 45 to 55 minutes. Cool in pan, serve warm. You can garnish with icing, powdered sugar, or even sliced kiwi.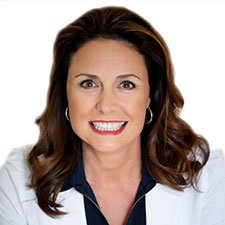 Suzy Cohen, has been a licensed pharmacist for over 30 years and believes the best approach to chronic illness is a combination of natural medicine and conventional. She founded her own dietary supplement company specializing in custom-formulas, some of which have patents. With a special focus on functional medicine, thyroid health and drug nutrient depletion, Suzy is the author of several related books including Thyroid Healthy, Drug Muggers, Diabetes Without Drugs, and a nationally syndicated column.