Chia seeds have a lot of antioxidant power, and combined with cinnamon spice, this delicious snack is sure to satisfy you. Chia seeds are high in fiber, the type that won't raise your blood sugar. It will also make you feel fuller because chia seeds expand in your stomach. They contain more omega 3 fatty acids than salmon (gram for gram). Bananas have potassium, magnesium, vitamin B6, copper and manganese. So consider Oat Chia Seed Pudding a nutritious way to cover all basis, meaning you'll get a decent amount of fiber, antioxidants, protein and nutrients.
Ingredients
1/4 cup chia seeds
1 cup rolled oats
2 and 1/2 cups milk (dairy, coconut, almond or soy)
3 to 4 teaspoons honey
1 teaspoon cinnamon
1/4 chopped pecans
1 ripe mashed banana
Honey glazed pecans for the topping. You can buy these ready-made or make your own –> CLICK HERE for recipe
Directions
Add all of the ingredients except the banana to a small container and stir well. You can put into individual glass containers for a more beautiful display. Put into the refrigerator to chill overnight. You'll have a delicious breakfast in the morning!  When ready to eat, stir in the mashed banana and top with glazed honey pecans, and optionally some sliced bananas.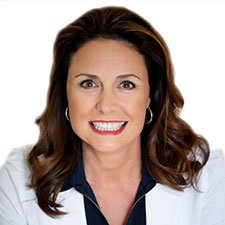 Suzy Cohen, has been a licensed pharmacist for over 30 years and believes the best approach to chronic illness is a combination of natural medicine and conventional. She founded her own dietary supplement company specializing in custom-formulas, some of which have patents. With a special focus on functional medicine, thyroid health and drug nutrient depletion, Suzy is the author of several related books including Thyroid Healthy, Drug Muggers, Diabetes Without Drugs, and a nationally syndicated column.