INGREDIENTS
Crust:
1 1/2 cups almond flour
1/4 cup melted butter
1/3 cup organic sugar
Filling:
3 cups fresh rhubarb, cut into ½ inch pieces
1/4 cup organic cane sugar
1 teaspoon vanilla extract
1 tablespoon cornstarch
Topping:
1⁄2 cup almond flour
1⁄2 cup gluten-free old fashioned oats
¼ cup slivered almonds
1⁄4 cup organic cane sugar
1 teaspoon cinnamon
2 tablespoons butter, cut into 8-10 pieces
DIRECTIONS
Preheat oven to 350.  Line the bottom of a 9×9 baking pan with parchment paper.
In a bowl, combine filling ingredients, then set aside.
In another bowl, combine the ingredients for the crust.  Evenly press the dough onto the bottom of the prepared baking pan.  You can use the bottom of a glass to press the dough down if you wish.  Bake for 15-18 minutes or until the crust is light brown and firm.  Remove from oven and let cool slightly.
While crust is cooling, make the oatmeal topping: in a bowl, combine topping ingredients.  Use your fingers to break up the butter pieces. Sprinkle the crumble mixture over the filling.
Once crust is slightly cooled, spread filling over evenly using a spatula.  Sprinkle with oatmeal topping and gently pat down.
Bake for 35-40 minutes.  Bars are done when the crumbly topping is light brown.
Allow the bars to cool completely for a couple hours, then remove from pan using parchment edges.  Cut into squares and store in refrigerator.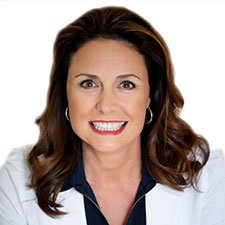 Suzy Cohen, has been a licensed pharmacist for over 30 years and believes the best approach to chronic illness is a combination of natural medicine and conventional. She founded her own dietary supplement company specializing in custom-formulas, some of which have patents. With a special focus on functional medicine, thyroid health and drug nutrient depletion, Suzy is the author of several related books including Thyroid Healthy, Drug Muggers, Diabetes Without Drugs, and a nationally syndicated column.