Have you ever wished for a discreet little health detective to keep an eye on your vital signs 24/7, or a stick-on buddy who can help manage chronic conditions like diabetes? Do you wish you can hear people talking in the room or on TV a little better? Well, welcome to the future because it's here!
Wearable technology has become an integral part of our lives in the 21st century. In fact, it's projected that by the end of this year (2023), the global market for wearable devices will make over $100 billion dollars, almost tripling sales from 2019.
The rise of wearables in the field of health tech has revolutionized the way we monitor our health. From wristbands to smartwatches to high-tech rings, these devices provide real-time insights about our bodies, helping us stay on top of our wellness game. Do they work? Yes, I'm sure some of these have tremendous value. Several of my friends and family members are users of the devices I've listed here, and they express their gratitude for the benefits these wearables provide. As for me, I have yet to personally experience these innovative health technologies firsthand because I don't use any of them (yet). 
The following list includes patches, implantables, and wearables (things like a watch), and can monitor certain health parameters like heart rate, blood glucose levels, body temperature, and more. It's amazing to me to live in this day and age, and see how we are revolutionizing the management of chronic conditions and post-operative care. The secret sauce that makes these things work – and it isn't  so "secret" anymore – is AI technology, as in artificial Intelligence.
AI isn't just making these devices work, or be smarter than a physician, they simply help a doctor to make more accurate diagnoses by providing long-range data. 
Why You May Like Health Wearables 
There's been a tremendous evolution in how we monitor blood glucose levels. In the early days, physicians gauged your Fasting Blood Sugar (FBS), a measure of sugar in your blood at a particular moment in time. This required a trip to the doctor, where your blood was drawn, typically after a period of fasting.
As our understanding of diabetes management progressed, healthcare providers began to adopt Hemoglobin A1C tests. This test doesn't capture just a single moment; instead, it provides an average of your blood glucose levels over the past three months. This gave both doctors and patients a broader perspective on blood sugar control.
Today, with advancements in technology and the rise of artificial intelligence (AI), we've ushered in a new era of glucose monitoring. Wearable devices, which often leverage AI, now provide continuous, round-the-clock readings. Not only can these wearables track your glucose levels over extended periods, but they can also capture the natural highs and lows that occur within a circadian cycle.
This 24/7 data provides a wealth of information that your endocrinologist can use to gain a more comprehensive understanding of your individual glucose patterns. This, in turn, allows for a highly personalized approach to managing diabetes, leading to more effective treatment plans.
Conditions That Can Be Monitored by Wearables
Now I am going to categorize some of the most popular high-tech health wearables, patches and even implanted devices by condition, so you can zero in on exactly what might suit your needs. Remember, these should always be used under the guidance of a healthcare provider and also, I am not connected to any of these companies. I'm just listing them here for educational purposes. I don't even own any of them. If you have personal experience with any of these, or think I've missed something, feel free to email scriptessentials@gmail.com.
1. Heart Health and Blood Pressure
For those dealing with high blood pressure, heart disease, or just want to keep an eye on that ticker of yours, consider these devices:
Apple Watch – Wearables that Allow Apps
Pros: This handy wristwatch monitors your heart rate, can detect irregular heart rhythms, and even boasts an FDA-approved ECG app. There are many models, my understanding is that Series 7 and higher track these health details. My husband just got one and he wears it on days that he goes to his gym or on walks so he can track his steps since he is post knee-replacement. They're beautiful and you can change the watch face and watch bands.

Having an Apple watch enables you to download a very cool app if you want to monitor your heart rhythm more closely. It's called the Kardia app which allows you to detect signs of atrial fibrillation, tachycardia, bradycardia or other abnormal heart rhythms. The KardiaMobile EKG Monitor works in tandem with your smartphone. 
Cons: An Apple watch carries a pretty high price point so it won't suit everyone's budget.
Physician's Order or Prescription? No prescription needed.
Where to Buy: Directly from Apple or most electronics retailers.
Withings BPM Core
Pros: It measures blood pressure, ECG, and even listens to your heart via a digital stethoscope!
Cons: It's not wearable in the conventional sense – it's more like a 'smart' arm cuff.
Physician's Order or Prescription? No prescription required.
Where to Buy: Withings' official website, Amazon, and other online retailers.
Abbott's Implantable Cardioverter Defibrillator (ICD) with Bluetooth
Pros: Monitors heart rhythms and can deliver life-saving therapy for specific heart conditions.
Cons: This wearable requires a surgical procedure for implantation, so it's not for everyone.
Physician's Order or Prescription? Yes, you will need a physician's order or prescription.
Where to Buy: It's distributed through healthcare providers. Read more about this special device HERE. 
Fitbit – Another Huge Favorite Wearable
Pros: A fitness tracker that is worn just like a watch offers continuous heart rate monitoring, as well as blood oxygen levels (SpO2) and skin temperature tracking using electrodermal technology. These FitBit wearables are huge and very popular and the FitBit Sense monitors ECG so I'm told.
Cons: No major cons that I can think of! This is a great entry tool if you're new to the world of health wearables.
The Fitbit ECG app is currently available on Fitbit Sense (running Fitbit OS 5.0+), Fitbit Sense 2, Fitbit Charge 5, and Google Pixel Watch, so it's not on every single model.
Physician's Order or Prescription? No nothing is needed to get one of these. 
Where to Buy: Fitbit's official website, Amazon, and most electronics retailers, pretty much everywhere! It's much cheaper than an Apple watch. 
2. Diabetes and Glucose Monitoring
About 37 million American adults are living with diabetes. For those living with blood sugar abnormalities, or who need to monitor their glucose levels for some other reason (ie hypoglycemia, metabolic syndrome, etc), here are your best contenders for monitoring: 
Dexcom G6 CGM 
Pros: This is a wearable, kind of like a stick-on patch… it's not a surgical implant like you may have thought, and it provides real-time glucose readings directly to your smartphone, helping manage your diabetes more efficiently.
Cons: The sensor needs replacing every 10 days.
Physician's Order or Prescription? Yes, ask your physician – you need a prescription.
Where to Buy: Most pharmacies and some online medical retailers, once prescribed. Here's the WEBSITE.
Abbott Freestyle Libre Glucose Monitor
Pros: A skin patch that allows you to check your glucose levels without constant finger-pricking! Fantastic, I love this idea! It's what we now call a CGM (continuous glucose monitoring) system.
Cons: These wearables don't provide real-time continuous data – you need to scan it to get your readings but it's easy to do so, it's not a disadvantage but I had to think of something.
Physician's Order or Prescription? Yes. 
Where to Buy: Most pharmacies have this or can order it for you. Some online medical retailers but you need that order from doc.
Medtronic's Guardian Connect System
Pros: An implantable device that provides real-time glucose readings directly to your smartphone. It goes under your skin. Sometimes it's put on the belly, or the arm, your doctor will tell you. It's about 1 x 1.5 inches and super slim, so a minor procedure is needed initially. 
Cons: Sensor needs replacing every 7 days. There are kids on youtube showing videos on how easy this is to do, it can be done in minutes. 
Physician's Order or Prescription? Yes.
Where to Buy: Most pharmacies and some online medical retailers, once prescribed.
Eversense Continuous Glucose Monitoring (CGM) System by Senseonics
Pros: This implanted device offers up to 90 days of glucose monitoring.
Cons: It requires a minor surgical procedure to implant and remove the sensor.
Physician's Order or Prescription? Yes, a prescription is needed.
Where to Buy: Once prescribed, it's available through your healthcare provider. Here's their WEBSITE.
Honorable mention to one more —> the VitalPatch RTM – This is like a stick-on patch that provides cardiac monitoring and you can ask your physician about it since it is not OTC. There's more information at vitalconnect.com
3. General Health Monitoring
For those who want to keep an eye on their overall health, the following devices might catch your interest:
Oura Ring
Pros: Tracks various parameters, including heart rate, body temperature, and sleep patterns, all from your finger. If you have insomnia, it may come in handy. It's a pretty ring, and it comes in several colors/metals. I thought about getting one for about a minute, mainly because I love to wear rings. But I just can't see how this thing would even work!
The confusion is that two of my good friends who are both doctors have an Oura ring and they both say it works for them so I hate to dismiss it. They both wear it 24/7 and like it. The battery life lasts about 7 days, which is longer than an Apple watch. 
Cons: The wearable may not be suitable for everyone, particularly those who find wearing rings uncomfortable. It's a fairly 'thick' band. The price tag is another factor to consider, potentially placing it outside of an affordable range for some. In addition to the initial cost, there is suggested a $5.99 monthly membership fee "to help you get the most out of your Oura ring." Based on my research, the general public sentiment towards the product seems to be lukewarm at best, with an average rating of 1.6 out of 5 across 115 Google reviews (as of August 14, 2023).
Furthermore, the tracking ceases the moment the ring is removed, similar to most wearable devices. My personal knowledge about the product is admittedly limited as I do not own one. However, I have two acquaintances who seem to find it to their liking.
I would greatly appreciate hearing about your personal experiences with the product. Feel free to contact me via email, so I can obtain a more comprehensive understanding: scriptessentials@gmail.com
Prescription? No, nothing is needed. You can buy it easily.
Where to Buy: Directly from Oura's official website, Best Buy, and I saw some pre-loved ones on Facebook Marketplace. 
Fitbit Sense
Pros: Along with typical fitness tracker features, it also monitors ECG, skin temperature, and stress levels. Another pro is affordability. 
Cons: Some users find the ECG app a bit tricky to use.
Physician's Order or Prescription? No prescription is needed.
Where to Buy: Fitbit's official website, Amazon, and other major retailers. Easy access and many design styles makes this very popular. 
4. Sleep Monitoring
Sleep is our body's own superhero, restoring and rejuvenating us for a new day. If you have trouble sleeping, take a few minutes to read my article, 7 Common But Strange Reasons for Insomnia.
You may also want to consider Sleep Script Tranquility Capsules, a supplement I formulated that helps you rest.* It contains 1mg Melatonin plus other herbal extracts and amino acids.
For those who want to keep a close eye on their sleep patterns, consider these devices:

Fitbit Sense: Discussed above
Oura Ring: Discussed above
Withings Sleep Analyzer
Pros: This under-mattress sleep tracking pad monitors sleep cycles and heart rate, and even detects snoring and sleep apnea episodes. See image below.
Cons: Some users find the sleep score it provides to be slightly oversimplified.
Physician's Order or Prescription? No prescription required.
Where to Buy: Withings' official website, Amazon sells it, and so do other online retailers.
5. Emergencies and Devices That Provide a Lifeline
When it comes to emergency situations, every second counts. If you fall and can't reach a phone, having one of these around your neck (or wrist) can help you get care to your home within minutes. Here are devices that can provide that crucial lifeline when needed:
Medical Guardian – Mini Guardian
Pros: These wearables are great and offer a fall alert system as an option, GPS location tracking, and two-way communication with the company's 24/7 monitoring center.
With a single button, a person can alert the emergency response center. Think of it as a 'panic button' that one can push in case of a crisis. The Mini Guardian is also water-resistant, so you can wear it in the shower or pool, and the battery life lasts 5 – 7 days. I purchased a subscription to one of these for one of my parents, so I've seen it in person. These wearables can also be used if another person in the home experiences trouble. You just hit the 'panic button' and someone calls you, and comes to your home if needed.
Cons: It requires a monthly subscription, which might be a significant long-term investment for some users, depending on your budget. The fall detection feature comes at an additional cost. 
Prescription? No prescription required.
Where to Buy: Directly from Medical Guardian's official website, I made one phone call and they set it up and shipped a unit within minutes. 
With a device like the Mini Guardian, or similar, loved ones who live far away feel a little more secure knowing their loved one can press a button and access help within minutes. 
Bay Alarm Medical Alert System
Pros: This device offers 24/7 emergency response at the push of a button, GPS tracking, and automatic fall detection.
Cons: It requires a monthly subscription, which could add up over time. It's larger than the Mini Guardian mentioned above but it works in the same manner. 
Physician's Order or Prescription? No these wearables are easily accessible for all. 
Where to Buy: Directly from Bay Alarm Medical's official website.
LifeFone At-Home and On-the-Go GPS Voice-in-Pendant
Pros: It provides two-way communication with emergency care agents, GPS location services, and optional fall detection. Compatible with a smartphone. Possibly a little cheaper than the Mini Guardian, however, it depends on what other perks you order with it. 
Cons: It requires a monthly fee, and the fall detection feature costs extra. 
Physician's Order or Prescription? Nothing is needed. 
Where to Buy: Buy these wearables directly from LifeFone's official website.
6. Hearables 
If you have trouble hearing, we now have options termed "hearables."  This industry has become even more exciting for people, and access has been tremendously improved. That's because the FDA finally allowed over-the-counter hearing aids to become available in late 2022. Hearables are definitely also health device wearables so I'm including them here. 
I don't think any of the following will address profound or severe hearing loss, but some of these can help you if you have mild, perhaps even moderate hearing challenges. 
Jabra Enhance Plus
Pros: This device stands out with impressive amplification and sound quality, making it ideal for listening to music and podcasts. The product has the backing of global leaders in hearing health, ensuring a quality experience. It can be self-customized to your hearing loss and can toggle between amplifying surrounding sounds, playing audio, or both.
Cons: While it serves as a great entry point for someone new to hearing aids, it may not replace traditional ones that are better for people who have profound hearing loss.
Prescription?: No prescription required as it's registered as an OTC hearing aid.
Price: Approximately $799 for a pair.
Where to Buy: Available through various online retailers.
Sony CRE-E10
Pros: Offering audiologist-grade sound quality, this Sony hearable comes with rechargeable batteries and the option to stream Bluetooth audio (currently available for iOS only).
Cons: The product is relatively new to the market, so there's not a ton of reviews. Also, it doesn't work with Android devices – I'm sure they'll enable that one day though. It is expensive.
Prescription?: No prescription required as it's registered as an OTC hearing aid.
Price: $1,299 for a pair.
Where to Buy: Various online retailers.
AirPods Pro 2
Pros: This is an Apple-branded product that offers a feature known as Adaptive Transparency mode, which uses a built-in microphone to pick up and amplify surrounding sounds. It's useful to help amplify the sounds around you, it's not a hearing aid. These wearables are pretty affordable compared to traditional hearing aid devices. 
Cons: It's not a hearing aid, it just amplifies sounds a little bit so maybe this could help someone with mild hearing challenges.
Prescription? Nope!  It's now registered as an OTC hearing aid.
Price: $299 a pair.
Where to Buy: Go to Apple's website or other authorized retailers.
There are some other great brands to consider so I'm giving them honorable mention that way you can research all of these if you're interested: Lexie B2, Starkey Genesis AI, Lentorgi, EarCentric, Audicus, Eargo, Signia Insio, and more. The OTC" hearable" landscape is growing rapidly and there are more choices than ever before!
Summary 
From your dreams to your fears, AI is available to help people navigate your health journey with a bit more insight and peace of mind. Not all of AI is bad when you think about these types of devices and wearables which offer some peace of mind. 
I hope this roundup helps you navigate the exciting world of health wearables. Please share this article with a friend or relative because there is a lot of helpful information in it. These tools are here to aid in your healthcare, not replace your healthcare provider but they have tremendous potential.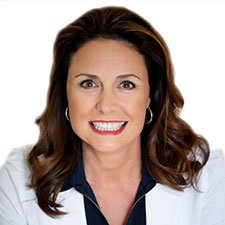 Suzy Cohen, has been a licensed pharmacist for over 30 years and believes the best approach to chronic illness is a combination of natural medicine and conventional. She founded her own dietary supplement company specializing in custom-formulas, some of which have patents. With a special focus on functional medicine, thyroid health and drug nutrient depletion, Suzy is the author of several related books including Thyroid Healthy, Drug Muggers, Diabetes Without Drugs, and a nationally syndicated column.