Ingredients
4 to 6 small chicken thighs, or 2 thin chicken breasts (rinsed and dried with a paper towel)
1 cup pork rind crumbs (if you are keto, otherwise you can use Panko bread crumbs)
1/2 cup parmesan crumbs
1/2 cup almond flour
Approx 1/2 cup fresh parsley, chopped (or 1 TBSP dried)
Mayonnaise (or if you are strict keto, use egg whites instead of mayo)
Optional: 1 TBSP chicken flour 
Directions for the Air Fryer Chicken
Preheat air fryer to 375 – 380 degrees while you are doing the next step. Mix together all the ingredients into a small bowl and stir until consistent. Set aside. You will eventually be dipping the chicken into this mixture.
Next, put some mayonnaise (about 1/4 to 1/3 cup) into a small bowl and add the chicken thighs and coat them all very well with the mayo. You want them heavily coated.
NOTE: If you are keto, instead you will brush egg whites onto each chicken thigh, front and back (instead of coating with mayonnaise because soy or olive oil is not technically part of the keto diet and that's what in most mayo brands).
I found a recipe online to make your own homemade keto mayonnaise and it's HERE if you want to do that.
Whether you use the mayo, or the egg whites the next steps are the same. Dip the chicken into the flour/parmesan crumb mixture to coat them well on both sides. Spread on top of the rack of your air fryer, and spray the top of them with a little oil for added crispness.
Air fry the chicken at 375 – 380 degrees for 12 – 15 minutes. You should turn them over midway and cook to desired crispness. Every air fryer is a little different so cook times might need adjusting.
If you enjoyed this recipe for air fryer chicken and would to eat a biscuit try my Keto Asiago Biscuits. 
This recipe for air fryer chicken would work well if you don't eat chicken, but instead eat Tofu and want to use that instead of chicken.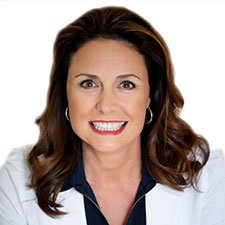 Suzy Cohen, has been a licensed pharmacist for over 30 years and believes the best approach to chronic illness is a combination of natural medicine and conventional. She founded her own dietary supplement company specializing in custom-formulas, some of which have patents. With a special focus on functional medicine, thyroid health and drug nutrient depletion, Suzy is the author of several related books including Thyroid Healthy, Drug Muggers, Diabetes Without Drugs, and a nationally syndicated column.