Peptides are very popular now for good reason. They go on to form a chain that is called a protein, and some of those proteins heal the body or make it look more youthful. If your mind goes to peptides found in bone broth or anti-aging beauty supplements, you'd be right.

Biologically active peptides of all sorts, go into the making of collagen which is needed for heart health, beautiful skin, and strong bones. But it's more than that.

Peptides applied topically are found in skin care creams and facial serums and people wonder if they work because these beauty products are not always cheap! Yes, they do if you consistently apply them and there's a sufficient amount in your product.

Peptides are naturally found in your skin. You have a lot when you're young. When you apply them via a face cream or serum, it signals a giant cascade of chemicals in your body that essentially tells your skin cells to make youthful compounds again.  For example, some peptides will stimulate you to make collagen, elastin, glycosaminoglycans, proteoglycans and fibronectins.
These are essential for healthy skin integrity, and collectively they minimize the signs of aging and UV damage. So do they work?  Yes, but only if you get enough, and use it consistently. It takes weeks to months to really see major rejuvenation. In fact, you may not see it, but you'll get compliments about not looking your age, or similar.  Interested in more youthful-looking skin? I have an ARTICLE I wrote that is a quick read, check it out. 
Peptides are naturally occurring in the body, but using outside sources (via skincare products) is helpful. Those are plant-based usually, or synthetically produced to match the ones your own body makes. After age 25 or so, we make less collagen year after year. By the time we're 50, about 30 or 35 percent of our collagen has left the skin.

Peptides improve your skin's appearance by helping tighten your skin barrier and make it more elastic, firm, and smooth. Peptides help with hydration and wrinkle reduction. They do not require a prescription from a dermatologist, these are found in some skin care products.

Peptides are intended to work very specifically to fight skin inflammation, form collagen, or kill bacteria that cause acne or skin infections. Also, some are hydrating and minimize brown spots and hyperpigmentation. You can see why many people spend more on their face creams and serums… because the advantages of having a peptide in your moisturizing cream are so worth it!
Better yet, peptides don't interact with other facial products such as vitamin C, retinoids, prescription creams, or other face creams. You will often see the word "peptide" or "collagen boosting" on the label of a product that contains peptides for wrinkles.
Rather than list brand-name beauty products, I thought I would give you the names of the peptides themselves. This way, you can look at your own product and see if it contains it. 
Palmitoyl Tripeptide-5.
This is a very popular one and it goes by the name Syn-Coll. Just FYI, this peptide is sold online for research, as a subQ injection. Topically speaking, you can find this ingredient in high-end luxury, skin care products that help with wrinkles and dryness.* It's a synthetic peptide that stimulates your own skin cells to make collagen.* When you put it on your skin in a consistent manner, it's capable of reducing wrinkles and improving firmness.* This ingredient is clinically proven to be safe and effective, and may actively remove any type of wrinkle.* 
The peptides that are tiny in size penetrate deeper into the skin, unlike proteins. They provide the signal to your cell to make the larger protein of collagen which could not otherwise get in, and also signal a caution sign to 'slow down' the breakdown of collagen in the skin cell.*

Palmitoyl Pentapeptide 3.
This peptide is similar to the peptide above, it goes by the name Matrixyl. It does all the same things and it's very good! You also see Palmitoyl Pentapeptide 4 which is similar. Matrixyl® is a trademark that designates an anti-wrinkle active ingredient for cosmetics containing palmitoyl pentapeptide-4 (palmitoyl pentapeptide-3 was the name before 2006).

Palmitoyl Tetrapeptide-7. 
This is very commonly used in anti-aging serums, moisturizing night masks and wrinkle creams to help minimize acne scars and hyperpigmentation. This is a key ingredient in Matrixyl-3000. Palmitoyl tetrapeptide-7 is a type of synthetic peptide composed of several amino acids to reduce skin inflammation and UV damage. It stimulates collagen in the dermis and improves the epidermal barrier.
Acetyl Dipeptide-1.
This is another popular peptide that is useful as a soothing agent, rather than a smoothing agent like the above collagen-boosting peptides. It contains arginine and tyrosine as its backbone. What's fascinating is that it stimulates nerve cells that are in your skin to release an opioid type of compound called met-enkephalin, which relaxes your muscles a little bit. A soothing two peptides bound together (tyrosine + arginine) that signals chemicals to relax the face muscles.
If you'd like to learn about a soothing ingredient found in many high-quality skin care products, CLICK HERE to learn about Jojoba and how it boosts collagen too. 

Copper Lysinate/Prolinate.
This is an interesting compound that is sold under the brand Neodermyl. 
It is an essential amino acid mineral complex that is supposed to boost your skin's own collagen Type I and III, as well as elastin production. It also has a relaxing effect on facial muscles (see above), while improving skin firmness and elasticity.
If you're interested in Neodermyl – a fascinating ingredient in my serum – it has a PAPER provides some important scientific data about Neodermyl.
Acetyl Hexapeptide-8 or 3.
This ingredient is found in youth-promoting cosmetics, serums, and eye creams. It is a peptide that is a fragment of something called SNAP-25, and is marketed under the name "Argireline." 
There are many kinds of peptides that don't even work on the skin, so having a peptide in your product doesn't necessarily convert to firmer, smoother skin or a glowing complexion. Peptides are a promising avenue for youth seekers, and if you have any questions, sometimes your local dermatologist can answer them, and they also occasionally carry good products in their clinic.
Many are sold online, on Amazon, and in beauty stores. Before purchasing, do your homework, look at reviews, and consider your needs. If you're in your 30's you don't need to pay for the expense of collagen-boosting products. But if you're middle-aged, the investment will be worth it. 
I think the biggest hump to figuring out is if there is a therapeutic amount. Due to the major expense of these ingredients, sometimes products contain a smidge (so they can boast about it on the label), but there may not always be a physiologically active amount to do anything.
This is the reason you may have a drawerful of products that you thought would work, but didn't. Makers should be forced to put in the efficacious amounts! Sometimes you can tell, like if the label has the brand name of the peptide showing, rather than the generic peptide chemical name.
If that's the case, then you know they have gone through the trouble of licensing this specific peptide and have been made to put in the exact percentage known to work in clinical trials, or else the manufacturer would not permit the brand name to be shown on the label. 
This is not a hard and fast rule, but it gives you something to go by. I tell you this because sometimes products charge over $100 or $200 for their creams, but when you look at the label, no brand name is written there (just the chemical/generic peptide name like those shown above), and that makes it impossible to know with 100% certainty if you're getting the manufacturer's required effective percentage of active peptides.
In other words, you may be throwing money away on pretty products that only have 'label show,' so from now on be intelligent and take a few more minutes to insist on these details before making your cosmetic purchases. 
If you're finding this topic of collagen and collagen peptides interesting, take a couple more minutes to read THIS ARTICLE which explains the different types of collagen, and includes a video on how to supplement with it. 
Find out what your skin says about your health by CLICKING HERE.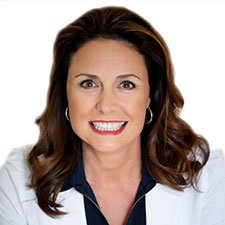 Suzy Cohen, has been a licensed pharmacist for over 30 years and believes the best approach to chronic illness is a combination of natural medicine and conventional. She founded her own dietary supplement company specializing in custom-formulas, some of which have patents. With a special focus on functional medicine, thyroid health and drug nutrient depletion, Suzy is the author of several related books including Thyroid Healthy, Drug Muggers, Diabetes Without Drugs, and a nationally syndicated column.