Ingredients for cheesecake
Refrigerated pie crust, soft (I used Pillsbury)
1 package cream cheese
3/4 cup sour cream
1/2 cup sugar
1 tablespoon honey
2 eggs1 tea vanilla extract
Ingredients for Blueberry Topping
1/3 cup water
1/3 cup light brown sugar
2 cups fresh blueberries
2 tablespoons lemon juice
1 to 2 tablespoons cornstarch (or tapioca) to thicken it. May be mixed with a little water.
Directions

Directions for Cheesecake
Pre-heat the oven to 350 degrees. Press the pie crust into a pie pan and set aside. Next, thoroughly beat the cream cheese, sour cream, sugar, and honey until well combined then slow down the machine and add the 2 eggs, one at a time. Next add the vanilla extract. Pour into pie pan and bake for about 1 hour at 350. Mine required an hour and 15 minutes so it depends on your oven. Once cooled, refrigerate and before serving, add your blueberry topping.
Directions for Blueberry Topping
Simmer the sugar, water and lemon juice for a moment over medium heat and add the blueberries, stirring constantly. In a separate dish, combine the cornstarch in a tablespoon or two of water to dissolve it. Then add the wet cornstarch to the pot and continue to simmer until the blueberry sauce thickens. If it becomes too thick, you can add more water. If it is not thick enough, add more cornstarch.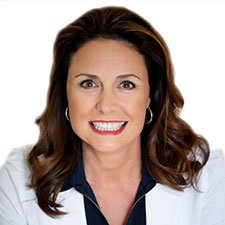 Suzy Cohen, has been a licensed pharmacist for over 30 years and believes the best approach to chronic illness is a combination of natural medicine and conventional. She founded her own dietary supplement company specializing in custom-formulas, some of which have patents. With a special focus on functional medicine, thyroid health and drug nutrient depletion, Suzy is the author of several related books including Thyroid Healthy, Drug Muggers, Diabetes Without Drugs, and a nationally syndicated column.