There are many recipes for chimichurri, but I think mine is the best because it combines cilantro and lemons in it which give it unbeatable flavor and antioxidant protection. I make this sauce and serve it with Prime Rib, whenever I make that to give the meal a fresh, zesty (memorable!) flavor which I think is better than au jus!
And remember, not everyone likes horseradish so this chimichurri is a delicious and healthy treat. You'll have to try it yourself and see. You can use this for wraps, skirt steak, baked potatoes, eggs, or just spoon some on top of a plain avocado. The amounts listed below can be adapted to your own taste buds. As an example, if you don't like that much cilantro, just use a tablespoon, or you could substitute a little bit of oregano or dill instead.

I have read where people say do NOT use a Cuisinart® or food processor to change the consistency of your chimichurri but for me, I have to otherwise it's just too herby. I am not able to achieve the perfect texture without my food processor BUT I only hit the "chop" button for 3 to 5 seconds, and I only put in half of the actual amount.
When I stir everything together, the texture is perfect and the red peppers and onions are more 'minced' and correct for this recipe.
So just use your judgement about how much chimichurri you want to blend, and for how long. I think for me the problem is that I cannot chop things tiny enough by hand, especially the red peppers and so the food processor takes the work out that process!
Ingredients for Brilliant Chimichurri Sauce
1 cup parsley, washed, de-stemmed and very finely chopped
1/2 cup cilantro, washed, de-stemmed and very finely chopped
Garlic – 4 to 5 cloves
1 TBSP of freshly chopped red pepper
1 TBSP red onion, finely chopped
Juice from 1 small lemon
Lemon rind, grated (from about half the lemon) – this is according to your taste so start with less, and add more as you taste-test it!

Approximately 1 cup olive oil (or 3/4 cup if you prefer it thicker). The key is to use a 2 to 1 ratio of olive oil to vinegar, so if you end up using 1 cup olive oil, you will be adding 1/2 cup vinegar.
Approximately 1/2 cup Apple Cider Vinegar (or Red Wine Vinegar if you prefer)
1 TBSP honey
1 – 2 TEA coarse salt
1/2 TEA black pepper
Optional: Dash of Reduced Balsamic Vinegar if you have it (about 2 TEA)

Directions for delicious Chimichurri Sauce
Combine all the ingredients, making sure that the herbs are very small and FINELY chopped. If you find that the texture isn't right for you, you CAN use a Cuisinart® for a few seconds, see my note above.
Remember, you want to see some of the herbs, you want a thicker texture, not a gravy, and not completely liquified! It only takes me a few seconds to get it perfect!
Feel free to freeze your chimichurri sauce. It's easy. Pour the finished chimichurri sauce into an ice cube tray. Cover the ice cube tray with clear plastic wrap and/or put it in a freezer storage bag. Freeze for up to 3 months. You can remove one cube at a time this way, making it very convenient to flavor recipes over time.
Also, if you don't have the "Reduced Balsamic Vinegar" do not stress. I don't normally add this when I make it. I've made this a bunch of times, and the last time I made it, I added this last minute and I loved it, so I included in today's recipe! But it will taste amazing without it. Just a note of caution, it's hard to get things OUT once you've added it, so I suggest you keep taste testing it as you move along.
Be careful not to dump in all the oil and vinegar without stirring it and taste testing it. Remember, you will be using about a 2 to 1 ratio of oil to vinegar. Serve chilled. Interested in impressing everyone with your Prime Rib? CLICK HERE to get my free recipe. It is foolproof!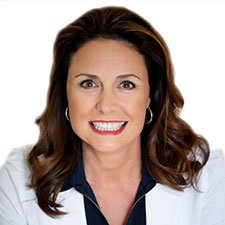 Suzy Cohen, has been a licensed pharmacist for over 30 years and believes the best approach to chronic illness is a combination of natural medicine and conventional. She founded her own dietary supplement company specializing in custom-formulas, some of which have patents. With a special focus on functional medicine, thyroid health and drug nutrient depletion, Suzy is the author of several related books including Thyroid Healthy, Drug Muggers, Diabetes Without Drugs, and a nationally syndicated column.