Ingredients
4 – 6 chicken thighs
1 TBSP minced garlic
2 TBSP butter or oil of choice
Some pasta of choice – fettuccini or angel hair, or even penne, fully cooked (about 6 cups)
For the sauce, you will need:
4 TBSP salted butter
2 TBSP flour
1 cup half and half
1/2 cup Parmesan, grated
1/3 cup chives, chopped
2 cups of fresh broccoli florets, chopped into bite-size pieces (alternatively, 1 cup of green peas)
1/4 cup lemon juice, freshly squeezed
Salt and pepper to taste

NOTE: If you are prone to headaches and migraines, do not add the Parmesan cheese because this can be a migrenade. To understand how cheese triggers a migraine, it's because it's high in tyramine. Read my ARTICLE HERE.

Directions
In another pot, cook your pasta according to directions on package. Set aside.

Skillet cook the chicken thighs in butter and garlic in a cast iron skillet or non-stick pan. Use medium-high heat to brown them nicely. It should only take a few minutes per side. When fully cooked, set the chicken aside, but use the same pan so you have all that remaining butter 'sauce' in there. To this pot, add 4 more TBSP butter and the half and half, and keep the heat on medium-low or even low. When consistent, add some flour but do it slowly and whisk continuously to thicken the sauce. If you want it thicker, you could add more flour of course, but with every addition, make sure to whisk out the clumps. Drop in some broccoli or frozen peas and continue simmering on low until the vegetables are bright green. Add the Parmesan, the chives and lemon juice. Salt and pepper to taste.

To assemble the dish, add the cooked chicken and the pasta to the sauce you made in the pot. Warm it throughout and serve heated, with some Parmesan on top for garnish and added flavor.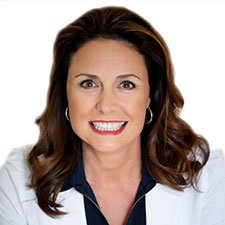 Suzy Cohen, has been a licensed pharmacist for over 30 years and believes the best approach to chronic illness is a combination of natural medicine and conventional. She founded her own dietary supplement company specializing in custom-formulas, some of which have patents. With a special focus on functional medicine, thyroid health and drug nutrient depletion, Suzy is the author of several related books including Thyroid Healthy, Drug Muggers, Diabetes Without Drugs, and a nationally syndicated column.