Ingredients
2 tablespoons butter, divided
2 slightly underripe Bartlett pears, cored and sliced
1 small red onion, thinly sliced
4 boneless, skinless chicken breasts, organic if possible
2 tablespoons olive oil
1 teaspoon fresh thyme leaves
1 tablespoon fresh parsley, chopped
½ teaspoon fresh sea salt
¼ teaspoon fresh ground pepper
1 tablespoon balsamic vinegar
Optional: 1/3 cup crumbled bleu cheese or avocado chunks
Directions
Preheat oven to 450 degrees. Use 1 tablespoon butter to grease a 9×13 baking dish, then place pear and onion slices in it to cover bottom. Combine oil, thyme, parsley, salt and pepper. Spoon half of mixture over pears and onions, then bake for 10 minutes. Meanwhile, marinate chicken in remaining oil mixture, turning to coat on all sides.
Remove dish from oven; arrange chicken atop the pears and onions and drizzle with balsamic. Dot with remaining tablespoon of butter. Bake uncovered 20 minutes or until chicken is done to internal temperature of 170 degrees. When cooked, sprinkle with blue cheese and/or avocado chunks. This is a beautiful dish that can be served as the main dish, or on top of salad greens.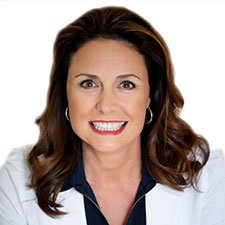 Suzy Cohen, has been a licensed pharmacist for over 30 years and believes the best approach to chronic illness is a combination of natural medicine and conventional. She founded her own dietary supplement company specializing in custom-formulas, some of which have patents. With a special focus on functional medicine, thyroid health and drug nutrient depletion, Suzy is the author of several related books including Thyroid Healthy, Drug Muggers, Diabetes Without Drugs, and a nationally syndicated column.