Ingredients
1/2 cup butter, soft
1 1/2 cups turbinado sugar
2 eggs
3/4 cup sour cream
1 teas vanilla extract 1/2 teas banana extract (optional)
2 cups rice or almond flour
1 teaspoon baking soda
1/4 teaspoon sea salt
1 cup mashed ripe bananas (about 2 small bananas)
1 container of Cream Cheese frosting (or make your own)
Directions: Preheat oven to 350 degrees. Grease or butter a baking pan, I used a 10 by 15 inch metal (jellyroll) pan. In a bowl, cream together the butter and turbinado sugar until smooth; I used a KitchenAid to do this, and turned down the speed to slow. Then I added the eggs (one at a time), sour cream and vanilla/banana extracts. Next, I slowly added in the flour, baking soda and salt. This makes a batter. Finally, add your bananas in. Spread evenly into buttered pan.
Bake for about 20 minutes and check it. I needed 25 minutes for my oven. You will know it's done when you put a toothpick into the center and it comes out clean. Once cooked, remove the bars/cake and let cool before you frost them. If you don't like frosting, you can eat these with a little honey or maple syrup on top, or plain! This recipe will make your home smell amazing!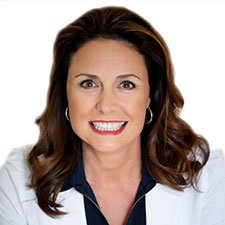 Suzy Cohen, has been a licensed pharmacist for over 30 years and believes the best approach to chronic illness is a combination of natural medicine and conventional. She founded her own dietary supplement company specializing in custom-formulas, some of which have patents. With a special focus on functional medicine, thyroid health and drug nutrient depletion, Suzy is the author of several related books including Thyroid Healthy, Drug Muggers, Diabetes Without Drugs, and a nationally syndicated column.