Ingredients
6 chicken thighs – fully cooked – either boiled or grilled
1/2 cup mayonaisse (or to taste)
1 cup green tart apples, diced
1 cup celery, chopped
Alternative to tart apples, use 1/2 cup red grapes, washed and sliced (peel is OK)
Sea salt and pepper to taste
Optional: 1 tablespoon red onion
Bread of choice
Directions
Combine all the ingredients above in a large mixing bowl. I use the green tart apples most of the time, but you can also use the red grapes.  Sam and I like this dish with a little bit of chew, meaning somewhat chunky. If you like it chunky too, then put 3/4 of your chicken salad mixture in a small food processer and pulse it a few times to combine it well and make it creamy. Add the rest of the chicken salad and you will see it has some degree of chunkiness, but it also spreads well. If you want more mayo, this is the time to add it. Spread it on your favorite bread. I like my chicken salad on lightly toasted sourdough, rye or pumpernickel bread.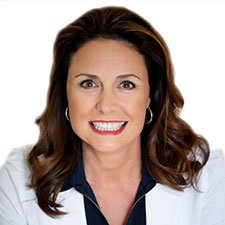 Suzy Cohen, has been a licensed pharmacist for over 30 years and believes the best approach to chronic illness is a combination of natural medicine and conventional. She founded her own dietary supplement company specializing in custom-formulas, some of which have patents. With a special focus on functional medicine, thyroid health and drug nutrient depletion, Suzy is the author of several related books including Thyroid Healthy, Drug Muggers, Diabetes Without Drugs, and a nationally syndicated column.