I never thought I'd like a pecan pie without the karo syrup! But I love this one, it's more natural and it does not have that sickly sweetness of the karo. It's delicious!!! If you want your pie really sweet, then use white sugar instead of what I suggest below (brown sugar). I don't like mine too sweet, hence my recipe is only 3/4 cup light brown sugar, and it's perfect for me.
Ingredients
1 Deep-dish frozen pie crust (or make your own)
2 eggs, lightly beaten
3/4 cup butter, melted
3/4 cup light brown sugar
2 TBLS flour
1 tea vanilla extract
1/4 cup Bourbon alcohol
1.5 cup pecans
1/2 cup semi-sweet chocolate chips

Directions
Preheat the oven to 400 degrees. Mix together the melted butter with eggs, sugar, flour, vanilla and alcohol. After well combined, pour in your chocolate chips, and the pecans. As for the pecans, you can break some of them lightly if you want, but they should not be chopped fine. I usually put them into a ziploc, and hit the bag with a mallet 10 times until they are slightly broken up. Bake at 400 for 10 minutes ONLY, then reduce temperature to 300 degrees, and continue cooking for approximately 30 minutes. Cooking time is very individual. You will cook bake this on a low temperature until the top of it (the pecan 'crust') begins to crack and lightly browns. Serve it warm with ice cream or whipped cream. If you are looking for a non alcoholic substitute for the bourbon, you can use maple syrup.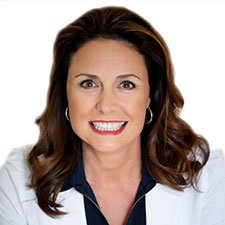 Suzy Cohen, has been a licensed pharmacist for over 30 years and believes the best approach to chronic illness is a combination of natural medicine and conventional. She founded her own dietary supplement company specializing in custom-formulas, some of which have patents. With a special focus on functional medicine, thyroid health and drug nutrient depletion, Suzy is the author of several related books including Thyroid Healthy, Drug Muggers, Diabetes Without Drugs, and a nationally syndicated column.