This cranberry sauce is unique because it uses coconut water which is an electrolyte booster, plus it has the tartness of crushed pineapples. It's a recipe I've made over and over, for probably 10 years! I do have a classic cranberry sauce recipe too –> to see the ingredients for that recipe, visit The Best Cranberry Sauce.
Cranberries support urinary tract health and contain compounds which stimulate 'quinone reductase' enzymes and cause apoptosis. Fresh ginger can help reduce arthritis pain and pineapples (which contain bromelain) are known to help with pain and inflammation due to the the strong enzyme activity. The key to unlocking the flavor in my recipes is by using a real zester, and grating the orange rind, and the ginger, and so forth. If you can avoid it, do NOT use a commercial dry spice, except for cinnamon. I like to use Ceylon cinnamon. If you're curious as to why, read my article about it called "How to Choose the Right Kind of Cinnamon."
1/2 cup of coconut water
Fresh cranberries (24 ounces which is 2 bags usually, or measure out 4 cups)
8 oz (1 cup) crushed pineapple (the juice is okay to put in)
1 -2 tea grated fresh ginger (to taste)
2 tea grated fresh orange rind
1/2 – 1 TEA cinnamon powder (to taste)
Pinch of salt
1/2 cup light brown sugar (alternatively use 1/2 cup coconut sugar)
Directions: Gently simmer all the ingredients together, with a lid on, but not tight, keep it cracked open a little or stir frequently. Simmer gently until it is the texture you like, it takes me about 15 to 20 minutes. Note: If it's too thick for you, add some more liquid (either pineapple juice, or water). If it's too thin, let it boil off some of the liquid. I prefer mine a bit chunky, but if you can certainly use a blender to make it smooth. Chill before serving.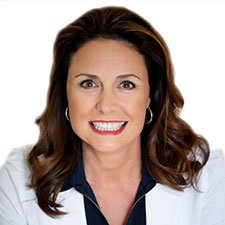 Suzy Cohen, has been a licensed pharmacist for over 30 years and believes the best approach to chronic illness is a combination of natural medicine and conventional. She founded her own dietary supplement company specializing in custom-formulas, some of which have patents. With a special focus on functional medicine, thyroid health and drug nutrient depletion, Suzy is the author of several related books including Thyroid Healthy, Drug Muggers, Diabetes Without Drugs, and a nationally syndicated column.