The following recipe is a classic cranberry sauce. I highly recommend this recipe, it is impossible to displease anyone at the table if you cook this delicious, savory but sweet cranberry sauce. It's perfect for Thanksgiving!
If you want something more unique to serve, try my other cranberry recipe which contains a different blend of ingredients. CLICK HERE to visit the other recipe called My Relatively Famous Cranberry Sauce which is made with pineapple and cranberries!
Ingredients for The Best Cranberry Sauce
1/2 cup golden brown sugar, packed
1/4 cup evaporated cane
1/2 cup orange juice, freshly squeezed if you have
1/2 cup water
12 oz bag of fresh cranberries
1/16 sea salt
1/2 TEA cinnamon
Optional add-ins: I've played with this recipe and found that you can add in different things such as a dried orange zest, or orange oil (the type of orange oil used in baking, not the essential oil), a dash of nutmeg, or even 1/4 cup of golden raisins, or 1/4 TEA of peppermint extract.
NOTE: You can make this sugar free by leaving out the sugar, and using your favorite sweetener such as honey, agave, etc. Just add it in towards the end of cooking time.
Directions
In a medium saucepan, whisk together the sugar, water and orange juice. When warmed, add the cranberries, salt, cinnamon, and any other add-ins from above. Cook on medium-high with the lid on for about 5 minutes just to heat everything up, stirring it occasionally.
When the cranberries begin to 'pop' keep an eye on the pot, reduce the temperature to medium-low and keep stirring until it is done, about 10 minutes. The cranberries will all pop and you will have a nice relish texture. If you feel you want it thinner, add more liquid. If it is too thin for your taste preferences, leave the lid off, and keep heating it until some of the water evaporates.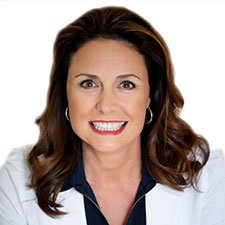 Suzy Cohen, has been a licensed pharmacist for over 30 years and believes the best approach to chronic illness is a combination of natural medicine and conventional. She founded her own dietary supplement company specializing in custom-formulas, some of which have patents. With a special focus on functional medicine, thyroid health and drug nutrient depletion, Suzy is the author of several related books including Thyroid Healthy, Drug Muggers, Diabetes Without Drugs, and a nationally syndicated column.