This soup is so delicious, it is worth every moment you put in it. You can speed up the process if you have a food processor, or if you can make anything ahead of time (ie the bacon). Please make this soup, not just to impress guests, but to watch everyone go crazy at the table for it… it is truly one of the best soups I've EVER made!!!

Ingredients
4 slices bacon, cooked and processed into chunky bacon bits
4 TBSP butter
1/2 cup yellow onion, minced
3/4 cup celery (about 2 large stalks), minced
5 cloves garlic
5 green onions, sliced thin (reserve 2 tablespoon for garnish)
4 small potatoes, peeled, cut into small 1″ pieces (about 1.5 cups)
1 cup water
3 cups milk
1/4 cup all-purpose flour
1 TSP salt
1/4 TSP black pepper
3 sprigs fresh thyme
1 lb shrimp, fully-cooked, thawed, rinsed and chopped
1 cup frozen corn, thawed

Directions
The first thing I did was cook the bacon in a frying pan. I used thick-cut bacon and browned it on medium heat for about 5 minutes each side. You'll want the bacon cooked, and somewhat crispy. Once cooked, I put it on a paper plate in the freezer for about 30 minutes to quickly chill it. This allows me to grind it in my mini Cuisinart® food chopper, thus turning it into 1/4 inch sized bacon bits. (You could alternatively just chop it with a knife). Set the cooked/chopped bacon aside but reserve 1 TBSP of the bacon fat and leave it there in the pan.

Next, chop your celery, and yellow onion and put into a mini food processor with the garlic cloves and process for about 10 seconds to chop it into a nice, small pieces. Do not puree. It should have the texture of that shown in my picture.

Reserve about 1 tablespoon of the bacon fat in your pan from your cooked bacon, and add your butter to that. Sauté the green onion, celery, garlic, and yellow onion in the bacon fat/butter for about 4 minutes until everything is softened. Set this mixture aside too.

In a medium sized pot (or Dutch oven by Le Creuset®) heat up 1 cup of water with your potato pieces. Simmer this for about 25 minutes until it is softened/cooked and you can mash it very well with a potato masher. To your potato 'mash' stir in the cooked celery/garlic/onion mixture that you set aside a few minutes ago. Stir well. Next you will be adding flour, but before you add it, wet it with some of the milk. You do NOT want to put the flour directly into the soup because it will clump up. So again, wet your flour with some of your milk and stir until it's smooth, and then pour it into the soup.
Pour the remaining milk into your soup and continue heating on medium. While it's warming, go ahead and add the corn as well as the shrimp (chop it into bite-size pieces). Add the sprigs of thyme. This is easy to do, strip the leaves from the hard stem by running your finger backwards on the sprig. The tiny leaves will come right off.

This is a thick, and savory soup. If you prefer a thinner consistency, you can add more water to it at the very end. Garnish with some green onion and bacon bits. Serve hot.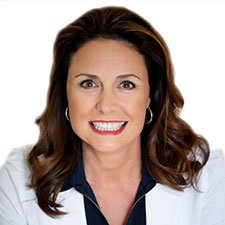 Suzy Cohen, has been a licensed pharmacist for over 30 years and believes the best approach to chronic illness is a combination of natural medicine and conventional. She founded her own dietary supplement company specializing in custom-formulas, some of which have patents. With a special focus on functional medicine, thyroid health and drug nutrient depletion, Suzy is the author of several related books including Thyroid Healthy, Drug Muggers, Diabetes Without Drugs, and a nationally syndicated column.