This soup was simple and delicious. I'm pretty sure it took me longer to clean the leeks than to make the whole soup! Leeks are dirty and sandy so when you clean them, you might want to soak them in a vinegar bath for 5 minutes (add a cup of white distilled vinegar to the water when you're cleaning them in your bowl. Then rinse them well). I will do just that, plus an extra cleaning using some Fit Fruit & Vegetable Wash. The point of all the cleaning is to remove ochratoxins which are dietary sources of Ochratoxin A, a food fungus. After your leeks are cleaned you are ready to make this heart soup. I used a Vitamix, however you can use any food processor you like. One thing to remember is to pull out the astragalus root (if you use it) as well as the bay leaf BEFORE you blend it all together!
Ingredients
2 large leeks, cleaned, sliced (it measures 3 cups)
3 cloves garlic
3 TBSP Extra Virgin Olive Oil
2 TBSP tallow, meat drippings or bacon fat (If you're vegan just add more olive oil or tea seed oil instead of these).
1 large potato, peeled, diced (it measures 1.5 cups)
3 cups water
1 cup half & half
1 TSP salt
1/2 TSP black pepper
2 sprigs fresh thyme
1 bay leaf
Optional: 1 piece of astragalus for immunity
Garnish with green onion or fresh parsley and/or bacon bits

Directions
Heat the olive oil and bacon fat (or tallow) in a cooking pot or Dutch oven, and add the leeks and garlic. Saute on low for about 5 minutes and then the 3 cups of water, along with the diced potatoes, bay leaf and astragalus bark. Simmer for 20 minutes with the lid on, but cracked so air can escape. At this point, pour in the half & half, some salt and pepper, and then strip the thyme leaves off the stem and drop right into the pot.
Continue to heat/simmer on low for another 5 – 10 minutes until the the potatoes are tender. That's the goal, the potatoes have to be cooked and be fork tender (edible). Once this is done, let it cool on top of the stove until you can put it into your Vitamix and blend until smooth. REMEMBER to take out the bay leaf and astragalus bark before blending. Garnish if desired with green onion or bacon. The flavor develops overnight and will be even more tasty tomorrow!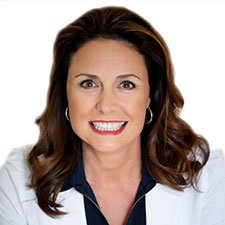 Suzy Cohen, has been a licensed pharmacist for over 30 years and believes the best approach to chronic illness is a combination of natural medicine and conventional. She founded her own dietary supplement company specializing in custom-formulas, some of which have patents. With a special focus on functional medicine, thyroid health and drug nutrient depletion, Suzy is the author of several related books including Thyroid Healthy, Drug Muggers, Diabetes Without Drugs, and a nationally syndicated column.