Ingredients
8 Fuji or McIntosh apples, peeled and chopped
1 cup of water
1 tea lemon juice
Optional: 1/4 cup sugar if you'd like it sweetened
Optional: 1/2 teaspoon of Matcha powder

Directions
Peel the apples, and chop them into about 1 inch pieces, then rinse them. (Discard the apple core and skins). Heat the water in a pot and pour the apple pieces into it and simmer for about 30 to 40 minutes until the apples are tender. I put the lid on my pot but not tightly closed, it is off center on top of the pot so that some air can escape. Add the lemon juice.
When the apples are soft, mash them gently with a food masher while they are still simmering on low heat (and the water has been mostly soaked up). I use a potato masher like THIS ONE and gently mash them until my apple sauce is smoother, but still a bit chunky.
The sweetener is up to you – I don't usually add a sweetener in mine unless I'm using green apples which are very tart.
Sometimes I add some matcha powder for antioxidant protection. To do this, whisk the matcha powder first with a few teaspoons of water before pouring it into your apple sauce you don't get chunks. This is optional, and it will turn the applesauce green, and add a smidge caffeine to it. Your apple sauce will taste fairly sweet, however, you can certainly add sugar, or a squeeze of honey if desired. Keeps fresh for 4 – 5 days in the refrigerator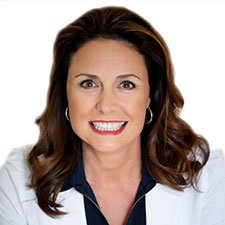 Suzy Cohen, has been a licensed pharmacist for over 30 years and believes the best approach to chronic illness is a combination of natural medicine and conventional. She founded her own dietary supplement company specializing in custom-formulas, some of which have patents. With a special focus on functional medicine, thyroid health and drug nutrient depletion, Suzy is the author of several related books including Thyroid Healthy, Drug Muggers, Diabetes Without Drugs, and a nationally syndicated column.