Ingredients
2 1/2 pounds baby beef or pork ribs
Sea salt and pepper
Onion Garlic Powder
Optional: Barbecue sauce

Directions
First remove the membrane from the back of the rack of ribs. Ask the butcher to do this for you at the store, you can do it yourself with a blunt knife. To do this, force the knife underneath the membrane and release it a little, then grab it with a paper towel and tug until it is pulled completely off the back of the ribs. This ensures that the meat will fall off the bone, and it also allows you to season the back of the ribs. I found a VIDEO of a man doing this in case you want to see how it's done.

Rinse the ribs clean and pat dry. Preheat oven to about 260- 275 degrees. Season the rack of ribs with salt/pepper and onion garlic powder. Alternatively, sprinkle them with a spice rub that you like. Wrap them in foil with 1/4 cup water on the bottom, then crimp the foil shut at the top. Bake for 3 1/2 hours to make them tender. Remove from oven, and take off the foil carefully, then brush the ribs with your favorite barbecue sauce if desired. Now, turn up the temperature to broil on a higher rack in the oven (uncovered), for about 5 minutes! Watch them closely so they don't burn, you're just trying to caramelize the sauce and char the top a little bit.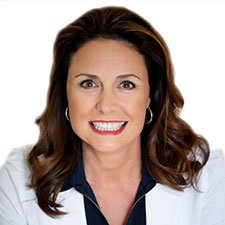 Suzy Cohen, has been a licensed pharmacist for over 30 years and believes the best approach to chronic illness is a combination of natural medicine and conventional. She founded her own dietary supplement company specializing in custom-formulas, some of which have patents. With a special focus on functional medicine, thyroid health and drug nutrient depletion, Suzy is the author of several related books including Thyroid Healthy, Drug Muggers, Diabetes Without Drugs, and a nationally syndicated column.