These are very easy and make a stunning display at any holiday-themed party you have or go to! To simplify this recipe, use your own favorite frosting and cupcake mix (based on your allergies and dietary restrictions). For example, some of you are gluten-free or paleo, or dairy free, or sugar-free… and so I want you to use what you can for the cupcake/muffin batter, and the same for your frosting.

You will need to make or buy:
24 red or green colored muffin/cupcake liners to bake with
1 box of vanilla cupcake mix (Use what you like, ie gluten-free, sugar-free)
1 can of "fluffy white" or coconut-flavored white frosting
For the sprinkles – Red and green-colored sugar, sprinkles or confetti
For the holly berry – Dec-ONS® Molded Sugar Holly or other brand of "edible holly sprigs" (I have seen these available for purchase from Amazon, at specialty bake shops, Walmart and Etsy, just make sure yours come with the berries and see my note below)*

*Use edible holly sugar/frosting for this recipe, do NOT use real holly plants or berries they are TOXIC when ingested.

Directions
Preheat your oven to the temperature designated on your cupcake or muffin mix. Make all the vanilla cupcakes and pour the batter into your green-colored muffin liners. Bake as directed. Let the cupcakes cool and then top with a dollop of your white frosting. Next comes the best part!

Apply your holly berry edible sprigs (or "appliques" as they are sometimes called) to the cupcakes, you can put one or two on each cupcake. Sprinkle with the red and green sugar.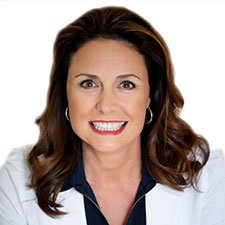 Suzy Cohen, has been a licensed pharmacist for over 30 years and believes the best approach to chronic illness is a combination of natural medicine and conventional. She founded her own dietary supplement company specializing in custom-formulas, some of which have patents. With a special focus on functional medicine, thyroid health and drug nutrient depletion, Suzy is the author of several related books including Thyroid Healthy, Drug Muggers, Diabetes Without Drugs, and a nationally syndicated column.