Ingredients for Cake
2 sticks of butter, melted (UNsalted)
1 cup light brown sugar, packed
2/3 cup evaporated cane sugar
1 can (15 oz) pumpkin filling (see my NOTE below)
4 large eggs
2 cups all-purpose flour
2 TEA baking powder
1 TEA baking soda
2 TEA cinnamon
1/4 TEA ground nutmeg
1/4 TEA ground ginger
1 TEA salt

NOTE about pumpkin: When purchasing pumpkin, use just the pure 100% pumpkin, not the filling that has spices in it. Also, this is very important, pour the pumpkin out onto a plate and blot it with a paper towel or cheesecloth, to try to 'dry' it up a little bit. Pumpkin tends to be a little soggy straight from the can. While not crucial, I think this step makes the texture of the cake perfect once it's baked.

Ingredients for Cream Cheese Icing
4 oz softened cream cheese (use a cream cheese block, NOT whipped or from a tub)
1 stick of UNsalted butter (this = 1/2 cup)
1 TEA vanilla extract
2 cups powdered (confectioner's) sugar

Directions
Preheat oven to 350 degrees.
To make the pumpkin cake, cream the butter with both sugars and mix well.
Spread your pumpkin out on a plate and blot as much of the moisture from it as you can, using a paper towel or cheese cloth. (See my NOTE above about this). Then add the pumpkin and eggs to your mixture and stir until well combined. I used my Kitchen-Aid, but you do not need this, any blender will do!
In a separate bowl, whisk together dry ingredients: The flour, baking powder, baking soda, and all the spices. Then add the dry ingredients to the wet ingredients and stir until smooth. Pour into a greased glass baking dish that is about 15″ x 10″ x 2″ (in centimeters this is 38 cm x 25 cm x 5 cm). Bake at 350 for 30 minutes until a toothpick comes out dry. Cool on the counter, or a rack for about an hour and it will harden and settle more in the center.

You could stop here and just enjoy the cake, but I recommend the icing. It is so finger-licking good, you will not believe it, and it's really not that sweet because I reduced the ratio of sugar normally used in this type of frosting.

If you decide to make the icing, beat the cream cheese with a stick of softened butter and vanilla extract. Add 2 cups of powdered sugar in increments and blend until the consistency is smooth. Spread the icing on the cake that has cooled. If desired, sprinkle cinnamon on top!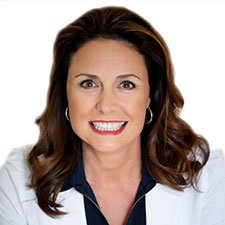 Suzy Cohen, has been a licensed pharmacist for over 30 years and believes the best approach to chronic illness is a combination of natural medicine and conventional. She founded her own dietary supplement company specializing in custom-formulas, some of which have patents. With a special focus on functional medicine, thyroid health and drug nutrient depletion, Suzy is the author of several related books including Thyroid Healthy, Drug Muggers, Diabetes Without Drugs, and a nationally syndicated column.