The following recipe is for a gluten-free cookie, however at the bottom of this post, you will see my NOTE for the regular version with regular flour. Also this cookie will harden to become a normal (kind of crispy) cookie, it is not gooey or mushy inside like other cookies. If you prefer a softer gooey middle on your chocolate chip cookie, then see my other recipe for Tom Brady Chocolate Chip Cookies which is posted HERE.

Ingredients
2 sticks UNSALTED butter, softened
3/4 cup sugar (evaporated cane)
3/4 cup light brown sugar
2 large eggs
2 TEA vanilla extract
1/4 TEA lemon juice
1-3/4 cup gluten-free "all purpose" flour
1/2 cup blanched almond flour (almond flour is naturally gluten-free)
1/2 cup rolled oats (straight out of the bag, dry, not cooked)
1/2 TEA cocoa powder
1 TEA baking soda
1 TEA salt
1-3/4 cup chopped walnuts
2 cups semi-sweet chocolate chips

Directions: Preheat oven to 300 degrees. In a mixing bowl or KitchenAid, cream the softened butter with the two types of sugar for 2 minutes until smooth/creamy. Add 1 egg at a time mixing well after each addition. Add the vanilla and lemon juice and stir well. In another large mixing bowl, combine the two flours, rolled oats, cocoa, baking soda, salt. Stir very well, then mix the dry ingredients into the wet ingredients. Fold in the walnuts and chocolate chips.
Your dough will be pretty thick, but it will cook perfectly. You do not have to chill this dough in the refrigerator (you can cook it right away), although you can chill it for up to 24 hours and then bake the cookies.
To bake, use a cookie scoop or a spoon to spread the cookies on a high-quality thick baking sheet that has been lined with parchment paper. Bake at 300 degrees for approximately 14 minutes, until the edges are slightly browned (the center will be a little moist, that's okay). Remove the cookies from the oven and let them continue to rest on the hot baking sheet for another 2 to 5 minutes so they continue to harden. Remove them from the pan and serve warm, or store them for several days as desired.

NOTE: To make this cookie with regular flour (not gluten-free), all you have to do is omit the two flours shown in the above recipe (so omit BOTH the almond flour and the gluten-free baking flour). Instead of those, just use 2-1/4 cup all-purpose flour. Everything else remains the same, even the baking time.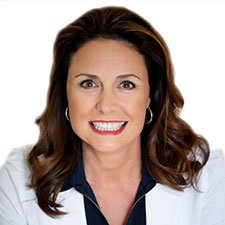 Suzy Cohen, has been a licensed pharmacist for over 30 years and believes the best approach to chronic illness is a combination of natural medicine and conventional. She founded her own dietary supplement company specializing in custom-formulas, some of which have patents. With a special focus on functional medicine, thyroid health and drug nutrient depletion, Suzy is the author of several related books including Thyroid Healthy, Drug Muggers, Diabetes Without Drugs, and a nationally syndicated column.