Ingredients
4 cups of fresh, organic blueberries, washed
1/4 cup orange juice (or 1 tablespoon lemon juice)
1 Tablespoon cornstarch (or tapioca) to thicken
1 cup of rice flour or almond flour
6 Tablespoons melted butter (or grape seed oil if you're dairy free)
1/4 cup of brown sugar
1/2 teaspoon of cinnamon
1 tablespoon of butter or oil
1/4 tea sea salt
1/2 cup of chopped walnuts
Directions
Heat oven to 350 degrees. Wash fresh blueberries, these taste work better than frozen ones. Make sure blueberries are dried (even with a paper towel) or it will be watery. In a bowl, mix your orange juice with the corn starch and whisk those two together so there's no chunks. Add in 6 tablespoons of melted butter. Pour this over the blueberries in a big bowl and stir until they are all coated. Then pour the berries into a square glass baking dish or beautiful individual baking dishes. Next, make your topping.
In a separate bowl, combine the almond flour, sugar, cinnamon, butter, sea salt and chopped walnuts.  When thoroughly crumbled together, sprinkle over your blueberries. You can add more slices of butter on top if you'd like. Bake uncovered for 30 minutes until the top is crumbly and beginning to brown. When cooked, cool on a rack and the cobbler will naturally thicken. Serve with whipped cream on top.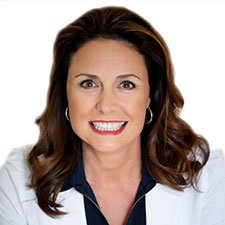 Suzy Cohen, has been a licensed pharmacist for over 30 years and believes the best approach to chronic illness is a combination of natural medicine and conventional. She founded her own dietary supplement company specializing in custom-formulas, some of which have patents. With a special focus on functional medicine, thyroid health and drug nutrient depletion, Suzy is the author of several related books including Thyroid Healthy, Drug Muggers, Diabetes Without Drugs, and a nationally syndicated column.