Ingredients
8 chicken thighs or 4 chicken breasts
Half a stick of butter
2 tea grated fresh, lemon zest/rind
1/8 tea pepper
1 teaspoon sea salt
1 teaspoon garlic powder
1/2 cup heavy cream (or alternative milk of your choice)
2 tablespoons capers, drained and rinsed
Optional: 1 teaspoon fresh dill or thyme if you like those
Directions
Wash and pat dry chicken thighs. Warm a skillet to medium heat and add the butter.
When sizzling, add the pepper, sea salt and garlic. Simmer the chicken thighs for 3 to 5 minutes on each side over medium. Add the freshly grated lemon zest now (you add it at the end of cooking so it doesn't destroy all the health-ful enzymes).
Turn the chicken frequently until done and then remove from the skillet and place into a pretty serving dish. Now, increase the heat to high (or medium high) in your skillet. Slowly, whisk in the heavy cream.
If you want this sauce thicker you can always add a little bit moistened corn starch or flour. I don't need to do this, however, you may like your sauce thickened. If that's the case, it's easy, just moisten/whisk  it with water to get the lumps out before putting it into the pan or you'll get lumps.  When the sauce is thickened to your satisfaction, turn off the heat and stir in your capers and fresh dill or thyme. Pour over your chicken and serve with warm crusty bread or a fresh salad.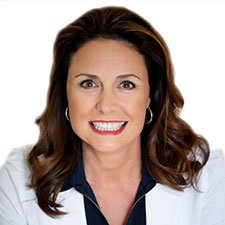 Suzy Cohen, has been a licensed pharmacist for over 30 years and believes the best approach to chronic illness is a combination of natural medicine and conventional. She founded her own dietary supplement company specializing in custom-formulas, some of which have patents. With a special focus on functional medicine, thyroid health and drug nutrient depletion, Suzy is the author of several related books including Thyroid Healthy, Drug Muggers, Diabetes Without Drugs, and a nationally syndicated column.