Ingredients for Keto Chocolate Chip Cookies
1/3 cup of coconut flour
3/4 cup almond flour
2 TBSP arrowroot powder
1/2 TEA gluten replacement
1/2 TEA cinnamon
Dash of sea salt (approx 1/8 TEA)
1/4 cup allulose
2 eggs
1 TEA vanilla extract
1/4 cup butter, melted (1/2 stick)
1/2 cup chocolate chips (Brand "Choc Zero" is what I used)
1 cup coarsely chopped walnuts
Optional: 1/4 TEA xanthan gum
Directions
Preheat oven to 350 degrees. With a gloved hand, mix together all the ingredients, adding in the walnuts and chocolate chips last. Shape into 2-inch cookies and place on a cookie sheet (lined with parchment paper if you have it). Bake until the edges are slightly brown, about 10 – 15 minutes. They will continue to cook on the counter after you take them out.
If you do not keep keto, but you LOVE chocolate chip cookies, my "Tom Brady" cookies are totally amazing. CLICK HERE.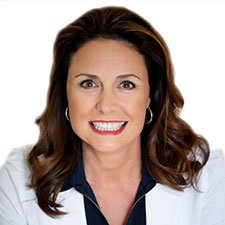 Suzy Cohen, has been a licensed pharmacist for over 30 years and believes the best approach to chronic illness is a combination of natural medicine and conventional. She founded her own dietary supplement company specializing in custom-formulas, some of which have patents. With a special focus on functional medicine, thyroid health and drug nutrient depletion, Suzy is the author of several related books including Thyroid Healthy, Drug Muggers, Diabetes Without Drugs, and a nationally syndicated column.