Today I'm sharing my favorite recipe for a healthy pesto-inspired spaghetti dish. This colorful, fabulous dish is loaded with healthy nutrients and includes the supplement 'aloe vera juice' which you can't even taste.
As for health benefits, spaghetti squash has a fair amount of beta carotenoids as well as soluble fiber. It only has 40 calories compared to 200 from traditional pasta. Please try spaghetti squash, it's worth the effort. Because I write for a living, I always ask the produce department to saw it in half in the back (I am not real good with sharp knives!)
My pesto sauce has a  dash of aloe vera juice, (whole leaf, USDA organic). Aloe is an ancient medicinal plant that has activity against H. pylori which can cause bad breath and gastric ulcers. About 87% of people with halitosis have H. pylori. Interestingly, a specific aloe protein (named 14 kDa) can block growth and spreading of Candida fungal infections.
I use organic grape seed oil in my pesto sauce. Grape seed oil does a good job at strengthening and repairing broken or torn capillaries and blood vessels (think spider veins and varicose).  Indirectly, this improves your circulation, another plus for people with diabetes who have impaired circulation and are prone to foot ulcers and amputations.
Obviously, basil is the star of the pesto sauce, and basil is very rich in blood-clotting vitamin K and manganese. Manganese spurs production of biologically active thyroid hormone (which burns fat) and it also makes Superoxide Dismutase, a potent detoxifying enzyme.  Manganese forms your enzyme called "prolidase," which makes collagen in your skin.
Basil is a lot like a natural antibiotic especially against certain staph and pseudomanas infections. Enough about nutrition, right now, I'm providing my recipe which may be served as the main dish with warm bread and butter, or beside your roasted turkey.
Ingredients for Mouth-watering Pesto Squash

Pesto Sauce:
2 cups packed fresh basil leaves
2 garlic cloves
1/2 cup pine nuts (or walnuts)
1/2 cup grated Parmesan (or Asiago)
1/4 cup grape seed oil
1 1/2 teaspoons aloe vera juice
1 teaspoon lemon juice
Salt & Pepper to taste
Squash:
1 medium spaghetti squash
1/2 cup water
Directions:  Blend the Pesto Sauce ingredients together in a food processor.  If it's too thick, add a tablespoon or two of water to alter consistency. Pesto may be made a few days in advance and stored in the refrigerator. One serving has only 19 calories and 1.8 grams of total fat!
To make the spaghetti squash, preheat oven to 400 degrees.   Halve spaghetti squash and place face-down in a lightly oiled glass baking pan. Pour water in pan around squash.  Cook for one hour or until you can push a fork through the skin easily.  Remove from oven, and carefully scoop seeds out and discard. Scrape the "spaghetti" out of the squash using a fork. Top with Pesto sauce and additional grated cheese.  This will make you drool! I've tried this recipe with frozen spaghetti squash and it was not good, for some reason the moisture content ruins the texture of the squash. For that reason, I highly recommend making your own squash for this particular recipe.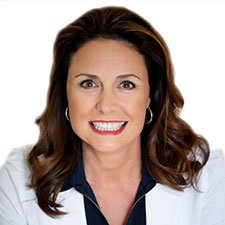 Suzy Cohen, has been a licensed pharmacist for over 30 years and believes the best approach to chronic illness is a combination of natural medicine and conventional. She founded her own dietary supplement company specializing in custom-formulas, some of which have patents. With a special focus on functional medicine, thyroid health and drug nutrient depletion, Suzy is the author of several related books including Thyroid Healthy, Drug Muggers, Diabetes Without Drugs, and a nationally syndicated column.