Ingredients
Package of 6 chicken thigh, washed and trimmed if desired
Butter – 1/2 a stick melted
Garlic, about 8 cloves, or 1 TBLS minced garlic from the little glass jars
1/4 cup fresh chopped yellow onion
1 tea garlic-onion powder
1/2 tea dried mustard powder
Salt/Pepper to taste
Optional: Dash of cayenne pepper
Directions
Preheat oven to 375 degrees and line a cookie sheet with foil, or use a glass baking dish. This hearty baked chicken dish is something Sam makes for me sometimes, hence the name. I'm willing to bet he uses more than a TBLS of garlic, but I'm not sure because I don't watch over his shoulder. In a small mixing bowl, whisk together the melted butter, minced garlic (reserving approximately half of the garlic to add on top of the chicken when it's almost done), chopped onion, dried mustard powder, garlic onion powder and sea salt/pepper. Pour over the chicken and bake (uncovered) for about 20 minutes. Add the remaining garlic on top of the chicken during the last 10 minutes. The smell of this dish will be wafting so much that your neighbors are apt to show up at your doorstep! It is so good if you love garlic like I do. If there is a lot of butter garlic sauce at the bottom of the pan, do what I do and pour it into rice to make your rice dish even more savory!

CLICK LIKE to FOLLOW Suzy Cohen – Get Important Health Tips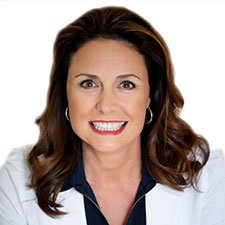 Suzy Cohen, has been a licensed pharmacist for over 30 years and believes the best approach to chronic illness is a combination of natural medicine and conventional. She founded her own dietary supplement company specializing in custom-formulas, some of which have patents. With a special focus on functional medicine, thyroid health and drug nutrient depletion, Suzy is the author of several related books including Thyroid Healthy, Drug Muggers, Diabetes Without Drugs, and a nationally syndicated column.