Sam jokes around with people and tells them that the only reason he married me is so he could consistently get this banana bread, lol! So I named it "Marry Me Banana Bread."
I used to make this for Sam while we were dating. He told me 20 years later that one of the reasons he married me was to get this bread, LOL! So I've titled it "Marry Me Banana Bread"
Ingredients
2 ripe bananas, mashed (equal to 1 cup)
1/2 stick melted UNsalted butter (alternatively grape seed oil if you're dairy-free)
2 large eggs, lightly beaten
1 1/2 TEA vanilla extract
1 cup all purpose flour
1/2 cup almond flour
1/2 cup of golden brown sugar, packed
2 TEA baking soda
1 TEA baking powder
1 TEA cocoa powder
1/2 teaspoon sea salt
1 cup dark chocolate chunks
1 cup walnuts, chopped

Directions
Preheat your oven to 375 degrees. Mash together bananas, butter, eggs and vanilla extract. Next, in a separate bowl, combine all the dry ingredients: The flours, sugar, baking soda, baking powder, salt and cocoa powder. Mix this well. Make sure your baking soda is fresh or your bread won't rise.

Mix together the wet and dry ingredients, and gently fold in the walnuts and chocolate chunks. Pour the batter into a greased loaf pan or muffin tins. Bake at 375 for 15 minutes, then reduce temperature to 350 degrees (without opening oven) for and additional 30 – 40 minutes until the top is lightly browned.
Baking tips: It may take a few extra minutes depending on your oven and other factors such as altitude. I lived in Florida for 35 years, and now in Denver the "mile high" city and I notice a definite change in cooking times here. Sometimes things cook faster here at altitude. Using a convection oven will also make things cook faster. Colorado is very dry, so I've had to alter my recipes at times and slightly increase my liquids (as an example, I might use an extra large egg instead of 1 large egg). Sometimes I have to reduce my baking soda by 20 or 30% to make a specific recipe work.

CLICK LIKE to FOLLOW Suzy Cohen – Get Important Health Tips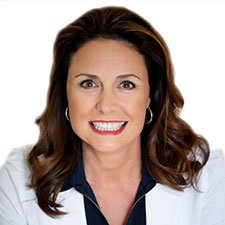 Suzy Cohen, has been a licensed pharmacist for over 30 years and believes the best approach to chronic illness is a combination of natural medicine and conventional. She founded her own dietary supplement company specializing in custom-formulas, some of which have patents. With a special focus on functional medicine, thyroid health and drug nutrient depletion, Suzy is the author of several related books including Thyroid Healthy, Drug Muggers, Diabetes Without Drugs, and a nationally syndicated column.