Ingredients
1 tortilla wrap, any flavor
2 pieces lettuce (Sam used Red Leaf, but any green will work, even spinach)
1/2 cup rib meat (warmed and cut off the bone) or alternatively, use tender flank steak
1/4 cup prepared cole slaw
4 slices (round) of dill pickle
Tomato, 4 thin slices
Optional: Barbecue sauce of your choice
Directions
Set the wrap down and put the lettuce on it first. Then place the rib meat on that; now spoon the coleslaw on top of the meat, and add your slices of pickles and tomatoes. Roll the wrap tightly on itself, you might need a toothpick to keep it together. Dip it in barbecue sauce if desired.
The image above has the wrap served with garlic stir-fry string beans.
We call it a "Rib Wrap Samwich" because one day we (my husband Sam and I) went out for lunch at a local barbecue place called Sugarfire Smokehouse and ordered ribs. He turned the leftover rib meat into a sandwich wrap! He is now legend in my kitchen, hence the name Rib Wrap Samwich!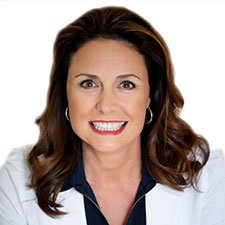 Suzy Cohen, has been a licensed pharmacist for over 30 years and believes the best approach to chronic illness is a combination of natural medicine and conventional. She founded her own dietary supplement company specializing in custom-formulas, some of which have patents. With a special focus on functional medicine, thyroid health and drug nutrient depletion, Suzy is the author of several related books including Thyroid Healthy, Drug Muggers, Diabetes Without Drugs, and a nationally syndicated column.