Ingredients
12 oz spaghetti
6 eggs
8 slices thick cut hickory smoked bacon, cut ½ inch strips
4 tablespoons olive oil, plus extra
4 shallots, diced, about 1 cup
3 garlic cloves, minced
1/2 teaspoon sweet paprika
1/2 cup fresh parsley, chopped
1 cup dry white wine (may use chicken broth)
1 cup freshly grated Parmigiano Reggiano cheese
Black pepper and sea salt
Optional: 1/4 teaspoon red pepper flakes
Directions
Cook the spaghetti as instructed by the packaging. Drain the pasta once it's cooked. Toss it with one tablespoon olive oil and set aside.
Meanwhile in a large skillet pan, cook the chopped bacon until the edges are lightly crisp. Remove and place the bacon onto paper towels to drain. Reserve 1 tablespoon of the bacon fat.
Using the same pan, add one tablespoon of olive oil, the reserved bacon fat, and shallots. Sauté over medium heat until the shallots are translucent. Add the minced garlic, paprika, and red pepper flakes. Then cook for another minute. Increase the heat to high, add the wine, and cook for about a minute. Lower the heat and simmer for about 5 – 7 minutes.
Using a non-stick frying pan, over medium heat, add a couple of tablespoons of olive oil. Once hot, fry the eggs either sunny side up or over easy, season with salt and pepper, and set aside.
Note: The egg yolks should be runny.
Return the bacon to the skillet pan and add the pasta. Toss to coat and heat through. Add more olive oil if needed. Add the Parmesan cheese, parsley, and season with black pepper. No need to add any salt due to the cheese and the bacon. Serve the pasta with one egg on top of each plate of pasta. Serves 6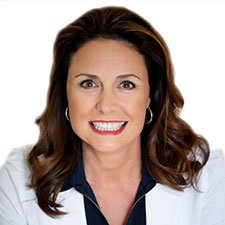 Suzy Cohen, has been a licensed pharmacist for over 30 years and believes the best approach to chronic illness is a combination of natural medicine and conventional. She founded her own dietary supplement company specializing in custom-formulas, some of which have patents. With a special focus on functional medicine, thyroid health and drug nutrient depletion, Suzy is the author of several related books including Thyroid Healthy, Drug Muggers, Diabetes Without Drugs, and a nationally syndicated column.