These pumpkin cookies are soft and so delicious! If you love pumpkin pie, you'll absolutely love these! 😋
Ingredients
1 cup canned or boxed pumpkin puree
2 eggs
1 cup granulated sugar
1/2 cup sweet cream salted butter
2 cups all-purpose flour
4 teaspoons baking powder
1 teaspoon salt
1 1/2 teaspoon ground cinnamon
1/2 teaspoon freshly ground nutmeg
1/4 teaspoon ground ginger
1/8 teaspoon ground clove
1/8 teaspoon ground allspice
1 cup chopped walnuts or pecans (optional)
Parchment paper
Cinnamon Cream Cheese Frosting:
1/2 cup sweet cream salted butter
8 oz. cream cheese
3 teaspoons vanilla or almond extract
4 cups powdered sugar
1 teaspoon cinnamon
Directions
Preheat the oven to 350 degrees.

In a mixer, add the butter and granulated sugar, mix until light and fluffy. Add the eggs, the pumpkin puree and mix well. Sift together the flour, baking powder, salt, cinnamon, nutmeg, ginger, clove, allspice and mix until all is blended. Do not over mix. Add the walnuts or pecans if using, and mix to incorporate.

Using a large baking sheet, lined with parchment paper, drop full spoonfuls of the cookie batter, leaving space in between for the cookie to expand. Repeat the process as needed.

Tip: These cookies will not spread out much as they bake. You may want to lightly spread the batter using a spoon so the cookies have a flatter shape. Otherwise, they will be tall and rounded.
Bake approximately for 15 minutes. Remove the cookies from the pan and cool down on a wire rack.

Cinnamon Cream Cheese Frosting
Beat the cream cheese, butter and vanilla in a mixer until blended. Add the powdered sugar, a cup at a time, and continue to mix until the sugar is incorporated.

Frost the cookies after cooling on a rack for at least 5 minutes. Sprinkle some cinnamon on top of each cookie.
Yield: About 24 cookies, 3 inch diameter.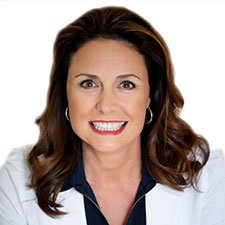 Suzy Cohen, has been a licensed pharmacist for over 30 years and believes the best approach to chronic illness is a combination of natural medicine and conventional. She founded her own dietary supplement company specializing in custom-formulas, some of which have patents. With a special focus on functional medicine, thyroid health and drug nutrient depletion, Suzy is the author of several related books including Thyroid Healthy, Drug Muggers, Diabetes Without Drugs, and a nationally syndicated column.