INGREDIENTS:
3 cups unsweetened coconut flakes
3 eggs
2 pounds peeled and deveined shrimp, tails on
1/3 cup unsweetened organic coconut milk
2/3 cup coconut flour
1 teaspoon sea salt
1/2 teaspoon cayenne pepper
DIRECTIONS:
Preheat oven to 400 degrees and lightly grease one large baking sheet. You will need 4 shallow bowls. Place coconut flakes in one bowl. Beat eggs in the second bowl. Place shrimp in another bowl, cover with coconut milk and set aside. In the fourth bowl, combine coconut flour, sea salt, and cayenne. Remove shrimp from coconut milk one at a time, dredge in flour mixture, then dip in egg, and finally roll in coconut flakes. Once each shrimp is coated in coconut flakes, place on baking sheet and bake for 12-15 minutes. Shrimps should be pink on the inside and the coconut should be light brown.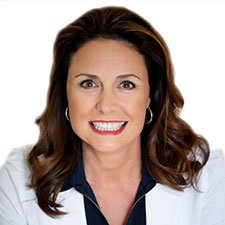 Suzy Cohen, has been a licensed pharmacist for over 30 years and believes the best approach to chronic illness is a combination of natural medicine and conventional. She founded her own dietary supplement company specializing in custom-formulas, some of which have patents. With a special focus on functional medicine, thyroid health and drug nutrient depletion, Suzy is the author of several related books including Thyroid Healthy, Drug Muggers, Diabetes Without Drugs, and a nationally syndicated column.