INGREDIENTS:
¼ cup extra-virgin olive oil
½ cup organic sugar
2 eggs
2 teaspoons vanilla extract
3 cups almond flour
½ teaspoon sea salt
1 teaspoon baking soda
3/4 cup sliced unsalted almonds
DIRECTIONS:
Preheat oven to 350 degrees. Line 2 large baking sheets with parchment or silicone baking mats. In large bowl, whisk together oil, sugar, eggs and vanilla extract until well combined. In another bowl, combine almond flour, sea salt, and baking soda. Add wet ingredients to dry ingredients and mix until combined. Fold in slivered almonds.
Divide dough into 2 halves, then use your hands to form one log on each of the two baking sheets. The logs should be about 3 inches wide. You may need to wet your hands with cold water if the dough is too sticky.
Bake for around 25 minutes or until logs begin to brown lightly. Remove from oven and allow to cool until slightly firm, at least 10 minutes. If you have an offset spatula or cake knife, it helps to run it under the logs to release them from the parchment or baking mat. Once logs are slightly firm and beginning to cool down, use a knife to cut them into ½-inch diagonal slices. Once they are cut, gently place them on their sides scattered around the baking sheets. Bake, rotating once, until crisp and dry, approximately 15 minutes. Allow to cool completely before serving.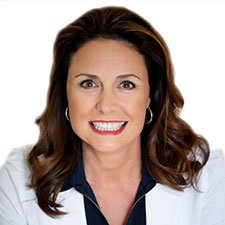 Suzy Cohen, has been a licensed pharmacist for over 30 years and believes the best approach to chronic illness is a combination of natural medicine and conventional. She founded her own dietary supplement company specializing in custom-formulas, some of which have patents. With a special focus on functional medicine, thyroid health and drug nutrient depletion, Suzy is the author of several related books including Thyroid Healthy, Drug Muggers, Diabetes Without Drugs, and a nationally syndicated column.