Ingredients for Air Fryer Blueberry Crumble
Filling Ingredients
2 cups frozen blueberries
1/2 TEA vanilla powder (= to 1 TEA vanilla extract liquid)
1/2 TEA cinnamon powder
1 large egg
1 TBSP arrowroot
1 TBSP Swerve sugar replacement
dash of salt
Crumble Topping Ingredients
2 TBSP butter
1 TBSP sugar replacement (ie monkfruit, swerve, etc)
1/4 cup almond flour
Approximately 2/3 cup walnuts, coarsely chopped
1/4 cup butter, melted
Optional: Whipped cream topping on this air fryer blueberry crumble is just absolutely delicious! It's not "optional" in my house – it's a must! 
Directions
This recipe makes about two servings. Mix together all the ingredients for the blueberry filling and pour into two small ramekin dishes (or one larger cake pan that fits into your air fryer). Set aside. Next, make the crumble topping by combining all the ingredients for that. Pour on top of the blueberries.
Place dishes into your air fryer and set the temperature to 325 degrees. Air fry this for approximately 15 – 20 minutes, check it periodically. The top will be lightly toasted brown, and the filling should be warm and melted together. Remove carefully from air fryer and allow to cool at room temperature for about 30 minutes. Serve with whipped cream.
If you like this recipe but you don't follow a keto lifestyle/diet, then try my really awesome Blueberry Sour Cream Pie.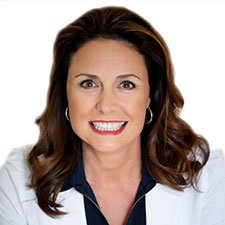 Suzy Cohen, has been a licensed pharmacist for over 30 years and believes the best approach to chronic illness is a combination of natural medicine and conventional. She founded her own dietary supplement company specializing in custom-formulas, some of which have patents. With a special focus on functional medicine, thyroid health and drug nutrient depletion, Suzy is the author of several related books including Thyroid Healthy, Drug Muggers, Diabetes Without Drugs, and a nationally syndicated column.