Ingredients for Pie Filling
1 pie crust (unbaked)
3/4 cup sugar (I combined these 2 sugars: Turbinado and lt. brown sugar)
2 tablespoons all-purpose flour
2/3 cup sour cream
1 large egg
1.5 teaspoons vanilla extract
1/4 teaspoon sea salt
2 1/2 cups fresh blueberries
Optional: a little bit of lemon zest

Ingredients for Topping (I like a lot of topping! This is the best part!)
1/2 cup almond flour
1/2 cup all-purpose flour
1/4 cup brown sugar
4 tablespoons melted butter (1/2 stick) or grape seed oil
1 cup chopped walnuts or pecans
(Adjust the topping as you wish, if it feels too dry, add more butter, if it is too wet, add more nuts or flour. It shouldn't be gooey, and it should not spread, it should be crumbly and somewhat on the drier side.)
Directions
Preheat oven to 375 degrees. Mix together all the FILLING ingredients in a bowl, in the order shown. You should not use a hand mixer, simply whisk or stir it until it is uniform. Also, there is no need to intentionally pop the blueberries, just fold them in (they'll break while they're cooking). Pour filling into pie crust and set aside.
Next, combine all the ingredients for the topping (flour/sugar/butter/nuts).
Spread the topping (you just place spoonfuls of topping) on top of the pie, and put it in the oven. Bake 45 minutes until top is lightly browned and the pie is bubbly. Take out of the oven and let it rest/settle for 30 minutes, then serve. (To store it, refrigerate it for up to 3 days).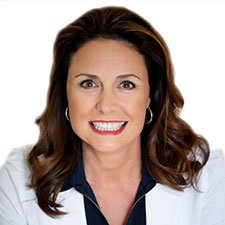 Suzy Cohen, has been a licensed pharmacist for over 30 years and believes the best approach to chronic illness is a combination of natural medicine and conventional. She founded her own dietary supplement company specializing in custom-formulas, some of which have patents. With a special focus on functional medicine, thyroid health and drug nutrient depletion, Suzy is the author of several related books including Thyroid Healthy, Drug Muggers, Diabetes Without Drugs, and a nationally syndicated column.