Ingredients
1 jar crushed tomatoes (I used Jovial brand which is "no salt, no sugar" but any kind will work, even canned tomato sauce)
4 TBSP Worcestershire sauce
4 TBSP vinegar (any kind, balsamic, apple cider or distilled)
1 TEA "smoked" salt if you have it, otherwise use sea salt
1 TEA garlic-onion powder
2 fresh garlic cloves, minced
1/4 TEA cayenne powder, more if you prefer it hot
1 TEA keto-friendly sweetener (ie monk fruit, Swerve, etc
Note: Since I am not super strict on keto, and really believe in natural things, I used 1 TEA of coconut sugar for this recipe, and it really was not sweet at all! Since you can always sweeten the barbecue sauce later, you could even leave out the sweetener and see if you like it that way!  
Directions
Combine all these ingredients into a small saucepan and heat on medium-low, allowing to simmer for 5 minutes. Allow to cool, and store in the refrigerator for up to 2 weeks. This sauce makes a great dipping sauce for chicken wings, or you can brush it onto your steak or ribs and grill.
If you like this recipe for barbecue sauce, you may also like my Keto SAUSAGE MEATBALLS. Feel free to brush this sauce onto the meatballs.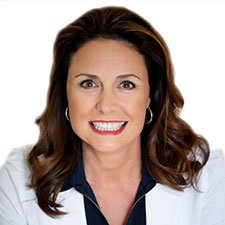 Suzy Cohen, has been a licensed pharmacist for over 30 years and believes the best approach to chronic illness is a combination of natural medicine and conventional. She founded her own dietary supplement company specializing in custom-formulas, some of which have patents. With a special focus on functional medicine, thyroid health and drug nutrient depletion, Suzy is the author of several related books including Thyroid Healthy, Drug Muggers, Diabetes Without Drugs, and a nationally syndicated column.