Ingredients for Chocolate Chip Pecan Squares
1/2 cup UNsalted butter, melted
1/4 cup evaporated cane sugar
1/2 cup golden brown sugar
1 large egg
1 TEA vanilla extract
1 1/2 cups gluten-free (or regular) all-purpose flour
1/2 TEA baking powder
1/4 TEA baking soda
1 TEA cornstarch
1/2 TEA salt
1/2 cup chopped pecans
1 cup mini semi-sweet chocolate chips

Directions
Preheat the oven to 350 degrees. In a large mixing bowl, melt the butter and then add the sugar. Cream this together with a mixer for 30 seconds. Add 1 egg and vanilla extract and blend for another moment. In a separate bowl, combine all the dry ingredients and whisk together by hand so it's well combined. Pour the dry ingredients into the wet ones and stir well.
To this, fold in the pecans and the chocolate chips. The batter will be thick similar to what you might have with true cookie dough. Since I did not use my heavy-duty stand-up mixer, I found it easier to don some disposable gloves and dig in by hand! I used a kneading motion for about 30 seconds to blend everything perfectly.
Spread the batter into a baking dish, about an 8 x 8 or 9 x 9 size. Bake for 15 – 20 minutes until the edges and the top are starting to brown. Don't overcook it. Take it out and let it rest on a cooling rack for about 30 – 60 minutes. Cut into squares and enjoy!
If you enjoy dark chocolate, Click Here to learn 7 surprising benefits.
If you are a fan like my hubby is of chocolate chip cookies, check out my Banana Chocolate Chunk Cookies Click Here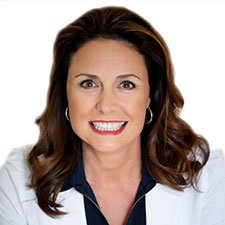 Suzy Cohen, has been a licensed pharmacist for over 30 years and believes the best approach to chronic illness is a combination of natural medicine and conventional. She founded her own dietary supplement company specializing in custom-formulas, some of which have patents. With a special focus on functional medicine, thyroid health and drug nutrient depletion, Suzy is the author of several related books including Thyroid Healthy, Drug Muggers, Diabetes Without Drugs, and a nationally syndicated column.